Schatten HFN-S2 Series Pickups for Selmer/Maccaferri Gypsy Jazz Instruments
Studio Microphone Quality Sound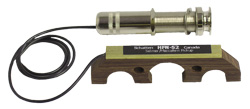 HFN-S2 (passive)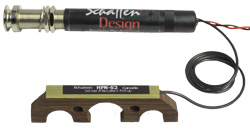 HFN-S2 Active and HFN-S2 Artist

"The sound of this new guitar pickup is as close to that of a good quality mic as you've ever heard from a guitar pickup..."
The only thing missing from the HFN-S2 in a Selmer is the 'quack' that everyone has come to expect and accept in acoustic pickups. Along with being simple to install, the HFN-S2's have excellent feedback rejection and good string to string balance.
The HFN-S2 models give you a sound that is much more realistic and acoustic than any pickup on a Selmer that you have ever heard before. More realism in attack, more realism in overall response, these pickups actually allow your instrument to sound just as good plugged in as it does unplugged.

The HFN-S2 series for Selmer / Maccaferri instruments is available in three basic model ranges: As the HFN-S2 (passive) which does not come with a preamp, as the HFN-S2 Active which comes with a single channel endpin jack preamp, and as the HFN-S2 Artist which comes with a two channel endpin jack preamp that can be run on phantom power.
We offer the passive model of the pickup for use in instruments that already have a preamp onboard or for those customers that wish to use an outboard preamp.
All HFN-S2's are designed to be used with a preamp - for best results, the HFN-S2 passive should be paired up with one of our outboard preamps.
Buy Now

HFN-S2 Models for Selmer / Maccaferri Gypsy Jazz Guitars

What Model Should I Get?
Here's a flow chart to help you determine which model of HFN-S2 suits your needs the best
Pic's
HFN-S2 Active and HFN-S2 Artist
---
HFN-S2 Player (passive)
---
Tech
HFN-S2

The HFN-S2 is designed to give you a full, rich sound and will reproduce exactly what your guitar sounds like. These pickups utilize an elegant combination of materials: rosewood for its main structure and arching with a light weight brass shell for its noise shielded piezo unit. Total weight of the pickup is a very light 0.2 ounces (7 grams). It will not affect the acoustic sound of the instrument when not in use.

The HFN-S2 will fit virtually all Selmer/Maccaferri instruments with standard Selmer style bracing. For more information on fit and bracing, click on the 'Technical' tab

Installation is quick and simple and takes about 20 to 40 minutes depending upon pickup model. All HFN-S2's come fully wired, complete and ready to install. The Active and Artist models also include a self adhesive velcro mount cordura nylon battery bag. Neat and tidy.
Video: HFN-S2 Installation (4 minutes)
Tool Kit available for installing HFN-S2's into petite bouche instruments:
A 2 piece tool kit is available at a negligible cost for installing the pickup into instruments having the smaller sound holes (petite bouche). Larger sound hole and D shaped sound hole instruments do not need the tool kit as the opening in these instruments is easily large enough to get one's hand in.
The tool kit consists of one tool that is angled and articulated to allow you to install the pickup through the sound hole and a second tool that enables you to pull the endpin jack or endpin jack preamp into place through the end block. This 2 piece tool kit can be seen on either pdf installation instruction sheet. The tool kit is priced at 10 dollars.

The Design Of The HFN

The HFN-S2 is designed to give you a full, rich sound and will reproduce exactly what your guitar sounds like. Due to its' design, this pickup sounds like and behaves more like a good quality studio microphone; something that you would never expect from a pickup. Noticeably absent is the usual 'quack' that you get from other pickups because what you're getting is the sound of the instrument itself, not just the response that you get from a bridge pickup in. Since the pickup really does respond and sound like a mic, adding any sort of microphone in conjunction with the HFN-S2 is really quite unnecessary.

The pickup is designed to allow it to flex and move along with the bracing of the instrument. There is a certain amount of flex built into the arching of the rosewood pickup base and as well there is both some flex allowed and some isolation from the bracing provided by the special mounting putty.
Video: HFN-S2 Design (2 minutes)

Utilizing a single piezo sensing element that comes into contact with only the bracing of the guitar through the 'hooks' of the pickup base allows for several things. First, the HFN-S2 is able to sample from more than one spot and to sample those spots across a span of time. Second, since we are able to do all this with just the one element, the chances of creating mechanical phasing issues caused by having to use more than one sensing element is eliminated.
Read more about the development of the S2... more
---
The HFN-S2 mounts to the bracing
The S-2 series of pickups is compatible with virtually all Selmer style instruments. While we were at it, we made the installation of the pickup quick and easy (even in the petite bouche). We've utilized this cutaway of a Selmer soundboard to show the placement of the HFN-S2 pickup. The pickup mounts on the two large transverse braces that form the main structure of the bridge box.
The pickup is held securely in place with our special mounting putty. This mounting is quick and very secure. The pickup may be removed easily however, at any time should you want to move it to a different instrument.
Bracing
The S-2 series will fit virtually all Selmer style instruments on the market. The standard Selmer bracing has the 2 main transverse braces set at 1.9" apart, center to center and the bracing thickness averaging between 0.300" to 0.350". The new HFN-S2 models were designed to fit this set of standard design parameters.
The HFN-S2 is not designed to fit Favino style instruments when those instruments use a Favino brace spacing that puts the 2 main transverse braces 2.9" apart, center to center.
The HFN-S2 is not designed to fit MM series from Aria. The 2 main transverse braces on these instruments is approximately 2.56" apart.
Installation Instructions and Fitting Template
Installation Instructions: HFN-S2 (passive) pdf HFN-S2 Active series HFN-S2 Artist series pdf
Should you have any concerns about whether an HFN-C will fit properly within your guitar, you may download the following pdf which contains full size drawings of all HFN bases. Do not scale this page when you print it after downloading: HFN Pickup Template - pdf
---
About HFN-S2's With Our Endpin Jack Preamps
HFN-S2 Active: A single HFN-S2 is all you really need. So, we've now made our HFN pickups available with our Player endpin jack preamp. One pickup, a single channel preamp.....and volume and tone thumbwheel controls are avaiable if you'd like them.
HFN-S2 Artist: When you get the HFN-S2 with our Artist II endpin jack preamp you're getting something very unique. The preamp has two channels, so you can add that magnetic pickup that you have to our HFN-S2 and balance the output with the trim pots on the circuit board. For added convenience the Artist II endpin jack preamps are available with thumbwheel volume controls for each channel. As well, the preamp can be run from an onboard 9 volt battery, or from Phantom Power (up to 48 volts dc) supplied by a mixer or amp, or from our RP-1 outboard battery box.
Artists
Dear Schatten Design team,

I'm playing guitar for about 36 years now. Two years ago, I founded a gypsy Jazz band: Artillerie Lourde. It's no problem to get the right instruments, but it's quite hard to get an adequate pickup system for them. I almost had everything on my Gitane DG-255 and on my Cigano GJ-15: Condensor mikes, on-top-transducers, also the Shadow SH NFX-MAC system.

Mike: Quite good sound but don't dare to move!
On-top-transducers: Not bad, but not satisfying.
Shadow system: Too much string sound, not enough body, and, worst of all, volume depending on string pressure. If you prefer low string action (like I do), there's not enough output. Using an external pre-amp will lead to humming and undesired noise.

I've been desperately looking for a pickup system that fulfills my needs. I might be only a semi pro, but my requirements are professional. When I found your pickup system in the internet, it was first some kind of "clutching at straws". But I soon found out it was more. It's just a perfect system for Selmer style guitars. You won't just get the string sound, you'll get the whole guitar on the amp or on the PA.

I ordered my first Schatten Design pickup over my local music store. I've got it after only three days, and the guy from the music store told me: "We're working together with all the big ones Fender, Gibson, all of them. But if everybody was so friendly, qualified and dependable like this guy from Schatten Design here in Germany, my job would be much easier."

Meanwhile I use your pickup in both of my gypsy guitars. But not enough: My colleague on rhythm guitar has ordered your pickup, too. And this guy is not only just a guitar player, he's one of Germany's most famous organ building masters: Someone who knows how an instrument has to sound!

The main advantages for me: Very natural sound, rather close to a microphone; no feedback even at high volumes; no batteries needed (I use phantom power from my amp or from my Frontier US-122 interface when recording on my Mac); no optical changes to my instruments. I use an angle stereo jack on my guitars to avoid damages on account of leverage effect in cause someone's standing on the cable. On amp side it's an XLR-plug.

Best wishes from a satisfied client in the heart of the Black Forest,

Eric www.artillerielourde.de
---
Hi everyone at Schatten Design,
We are Ben Robertson and John Tetrault, the guitarists with Swingology, a gypsy jazz band based in and around Windsor, Nova Scotia. We both have HFN-S2 Selmer/Maccaferri Pickups (passive) installed in our gypsy guitars, and we have to say that we are delighted with the sound.
We are running them through Roland AC60 Acoustic Chorus amps, and the sound is just about the most natural either of us has ever heard from an acoustic pickup. The Schattens reproduce the sound of our gypsy guitars without coloration or that hot edginess that one so often associates with piezos.
Ben is on his third HFN-S2, having had them installed in a succession of guitars. The most recent, a special order DellArte Anouman, arrived with a factory installed Bigtone pickup. Bigtones are very popular with many world famous gypsy guitarists, and they are known for their powerful output. However, after six months of trying, Ben found that the sound simply was not sufficiently natural, and he had the Bigtone removed and replaced with a Schatten. Since then, his bandmates have commented on the improved sound.
Swingologys music can be heard on our MySpace page at www.myspace.com/swingology
---
To Les and the Gang at Schatten design: Thanks again for installing the HFN-S2 on my Gitane 250M. You guys did a great job. The HFN-S2 captures the full Gypsy sound of the guitar. When amplified the guitar has a full rich tone; all the strings are equally balanced. It is a pleasure to plug in.
Sincerely, Dan Kozar www.dankozar.com
---
Jack Fields (aka: Monterey Jacques), honed his rhythm style busking on the streets of Santa Cruz and San Francisco for over 10 years before joining Hot Club Pacific in 2005. Regarded as a contemporary master of Gypsy Swing rhythm, Monty has blended his American swing roots with traditional and modern European Gypsy Swing styles to create a style that powerful, percussive, swinging and all his own.
"I rely on the HFN-S2 pickup by Shatten Design to accurately and consistently reproduce my sound regardless of where I play. It works great in small cafs and large auditoriums. I have them in all of my
guitars."
Monterey Jacques http://montereyjacques.blogspot.com/
---
In a word, (one I dont often use), Awesome. We ran this setup through amps designed for electric guitars, basses, and acoustic setups, and it sounded consistently good. Put together with a Baggs ParaDI and Yorkville AM100T, my normal setup, it just gets to room filling, with no strange honks, squeals or other weird noises. It is Selmer (Manouche) writ large. Great pickup.
Thanks,
George Parmenter, Albuquerque, New Mexico
---
About Pickups & Amps
Terminology
Passive Pickup - A piezo pickup.
Impedance - To simplify things as much as posssible we'll say that impedance refers to the range in which an amplifying device can 'hear' a pickup plugged into it.
Preamp - A device specifically designed for use with piezo pickups that increases the signal strength and lowers the impedance of a passive pickup.
Active Pickup - A piezo pickup with an attached preamp.
Microphone Preamp - a device that may be built into P.A.systems and mixers that is designed to work with microphones. These units will not generally work with passive pickups.
'Normal' Electric Guitar Amps: A passive pickup has an impedance of approximately 2 mega ohms (2 million ohms) which virtually all 'normal' electric guitar amps can generally handle without issue.
'Acoustic' Amps: may or may not require the use of a preamp with a pickup and that will depend upon whether or not there is a special built in preamp section to that amp that specifically allows for the choice in plugging in either a passive (non-preamped) or active (preamped) pickup. This choice is quite often in the form of pushbutton on the amp's control panel. Many acoustic amps show a selection that may indicate the choice of 'high impedance' and 'low impedance'.
Low impedance in these instances usually indicates that in this range the amp will handle an impedance of 1000 ohms or less - which will allow active pickups with preamps to be used.
High impedance in these instances may indicate an allowable impedance into the 2 or 3 mega ohm range - which will allow passive pickups to be used. Or it may indicate a maximum input impedance allowed of 20,000 ohms or less - which will handle magnetic electric guitar pickups but not passive pickups. You should carefully read the technical specifications of your acoustic amp in order to see what it will do.
P.A. Systems, Mixers: all of these units will require the use of a preamp between themselves and a passive pickup. Microphone preamps built into P.A.'s and mixers are not designed for use with passive pickups and will not work properly.
Computers: Due to the vagaries and variables inherent in the sound cards found in computers, the only thing that we can advise is that a preamp will almost certainly be necessary.