Schatten NR-2 Series Pickups for Biscuit Bridge Resonator Guitars
Designed For 'National' Style Reso's - Pickup Attaches To The Saddle or The Top Of The Biscuit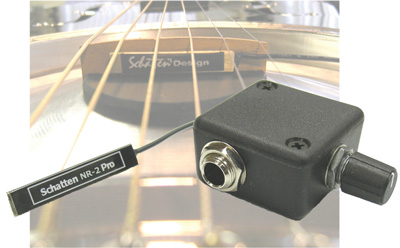 The NR-2 series of pickups is our way of providing a really good sounding pickup that can be mounted quickly and easily to National style instruments without having to drill any holes for anything when installing the NR-2 Std or NR-2 Pro.

All NR-2's are passive pickups and are available with your choice of either an endpin jack or one of two jack assemblies (one with a volume control) - both of which simply adhere to the instrument and snuggle in right next to to the tailpiece. Featuring our new MVC jack assemblies, which simply attach to the underside of the existing tailpiece or the area next to the tailpiece.
The MVC jack assemblies give you a much more secure and reliable mounting for an output jack assembly than anything that clamps to the side of the instrument. The jack assembly, which nestles in right next to the tail piece, is only a half an inch high and mounts to the tailpiece (not to the body).
For those players who need or want to use a preamp, choosing the basic NR-2 or the NR-2 Std and pairing that choice up with our Mini Pre belt clipable outboard preamp would be the way to go.
Details
Features:
* Installs quickly - the sensing element attaches to the face of the saddle with 3M VHB tape
* Excellent feedback resistance.
* Light weight. Does not alter the acoustic sound of the instrument.
* No modifications necessary - The passive pickup system may be mounted without drilling any holes.
* Superb Sound.
The NR-2 sensor is small and light in weight. At only 1/8" high, 1/4" wide and 1 1/2"" in length, it does not affect the acoustic sound of the instrument. It is attached with 3M VHB foam tape to the face of the saddle or to the top of the biscuit (depending upon the characteristics of the instrument).
Clean, clear sound reproduction.
In passive format, this pickup has been designed to operate properly and sound terrific without the use of a preamp when plugged into any 'normal' amp (guitar amp, bass amp, etc.). As with any passive pickup, the sound can be further enhanced with an outboard preamp. If you require the added ability to be able to plug directly into a P.A. or mixer then you may wish to add our Mini Pre belt clipable preamp.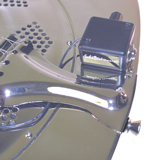 The low profile jack assembly is only 1/2" high and may be mounted either from a thin stand-off plate that adheres securely to the area under the tailpiece or may be mounted directly to the top with 3M VHB tape.
The MVCplus with volume control (shown right) provides a non-invasive means of putting an output jack assembly on a reso without damage.
Pictures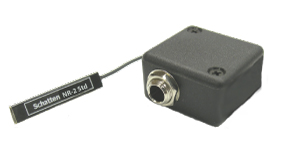 NR-2 with MVC Jack Assembly
---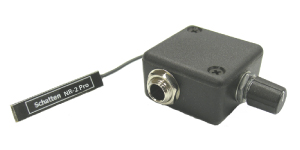 NR-2 Pro with MVCplus Jack Assembly with volume control
---
Artists
" I love this NR-2 Pro pickup....it sounds fantastic. My search for a superior pickup ended here."
Steve Strongman
---
Hi Rod!
Just wanted to let you know how awesome the NR-2 pick up is, I'm totally blown away by how clear and full it sounds. I'm gonna need to get a preamp/DI before my next gig as I play mainly through my PA at the bar gigs around here and not the guitar I amp I used in the video.
Jett Pink - Things Are 'bout Coming My Way
---
Hey Les,
Just a little note to tell you how pleased I am with my amplified sound of my Nationals now after installing your NR-2 pickup,a really true sound of the guitar amplified,for the times when a mic just won't cut it!
And totally keeping the guitar unalterd,no drilling ,no changing biscuits no marring of the finish,

Thanks Kenny Pauze www.myspace.com/clarksdalemoan
---
About Pickups and Amplification
Terminology
Passive Pickup - A piezo pickup.
Impedance - To simplify things as much as posssible we'll say that impedance refers to the range in which an amplifying device can 'hear' a pickup plugged into it.
Preamp - A device specifically designed for use with piezo pickups that increases the signal strength and lowers the impedance of a passive pickup.
Active Pickup - A piezo pickup with an attached preamp.
Microphone Preamp - a device that may be built into P.A.systems and mixers that is designed to work with microphones. These units will not generally work with passive pickups.
'Normal' Electric Guitar Amps: A passive pickup has an impedance of approximately 2 mega ohms (2 million ohms) which virtually all 'normal' electric guitar amps can generally handle without issue.
'Acoustic' Amps: may or may not require the use of a preamp with a pickup and that will depend upon whether or not there is a special built in preamp section to that amp that specifically allows for the choice in plugging in either a passive (non-preamped) or active (preamped) pickup. This choice is quite often in the form of pushbutton on the amp's control panel. Many acoustic amps show a selection that may indicate the choice of 'high impedance' and 'low impedance'.
Low impedance in these instances usually indicates that in this range the amp will handle an impedance of 1000 ohms or less - which will allow active pickups with preamps to be used.
High impedance in these instances may indicate an allowable impedance into the 2 or 3 mega ohm range - which will allow passive pickups to be used. Or it may indicate a maximum input impedance allowed of 20,000 ohms or less - which will handle magnetic electric guitar pickups but not passive pickups. You should carefully read the technical specifications of your acoustic amp in order to see what it will do.
P.A. Systems, Mixers: all of these units will require the use of a preamp between themselves and a passive pickup. Microphone preamps built into P.A.'s and mixers are not designed for use with passive pickups and will not work properly.
Computers: Due to the vagaries and variables inherent in the sound cards found in computers, the only thing that we can advise is that a preamp will almost certainly be necessary.