New
BJ-02M - Combination Pickup and Condenser Microphone System -
Now Available
Fits All Banjos - 4, 5, and 6 String
Introducing our newest model of banjo pickup the BJ-02M. By combining an interior mounted powered condenser mic with our proven BJ-02, we have produced a banjo system that provides a fullness of sound that was not possible before. The new BJ-02M adds an internally mounted powered condenser microphone and a 2 channel Mini Pre 2 outboard belt clipable preamp to our outstanding BJ-02 to provide unparalleled sound quality.
Revolutionary - When we introduced the BJ-02 series of pickups about 12 years ago we said that it was ...."A banjo pickup that allows your banjo to sound like your banjo, only louder".... The addition of the M powered condenser microphone in the BJ-02M opens up the sound and allows for more natural tonality. So we could say that the BJ-02M allows your banjo to sound like your banjo, only more so.The new BJ-02M system offers good feedback rejection along with simple, non-invasive installation.
Existing BJ-02 Owners - We haven't forgotten you. M Kits are available to upgrade your existing Schatten banjo pickup. The information on the M Kits is available under the 'Technical' tab on this page.
Other brands of banjo pickups - Testing has determined that the BJ-02 M-Kit upgrade will work properly with all other brands of banjo pickups including magnetic pickups. Please check under the 'Technical' tab on this page for further details.
NEW BJ-02M System

The system provides everything you need: PBJA Banjo jack assembly, BJ-02 sensor, M powered condenser microphone with micro plug lead, Mini Pre 2 two channel belt clipable outboard powering preamp, 2 foot long 1/4" stereo connector cable (not shown), mounting materials, instructions.
to: BJ-02, BJ-02 Std, BJ-02 Pro
Details

BJ-02M System
The BJ-02 pickup sensor is installed on the underside of the banjo head and is normally placed directly under and inline with the center foot of the bridge. The pickup is totally non-damping acoustically as it weighs less than 2 grams. It does not interfere in any way with the natural acoustic tone or output of the banjo.
The M powered condenser mic attaches to the interior surface of the rim of the banjo with our special mounting putty or with one of the supplied 3M VHB adhesive pads.
The Mini Pre 2 is a two channel outboard belt clipable preamp. Channel One is used to preamp the BJ-02 piezo sensor. Channel Two provides both the power for the condenser mic and preamps the mic signal as well. Input into the Mini Pre 2 is via a stereo 1/4" jack. Output from the Mini Pre 2 is via a mono 1/4" jack.
The PBJA jack assembly for the BJ-02M clamps simply and easily to the tensioning hooks of the banjo in the same manner as a banjo's arm rest. The output from the jack is stereo (2 separate signals) and an 18" long stereo 1/4" cable is provided to take the signals from the output jack to the Mini Pre 2.

The BJ-02M system is designed to work on any banjo. Five string, tenor, six string, open backs; all sound excellent with this system. Installation takes about fiften minutes and everything that you need to complete the installation is included with the system.

This particular placement of the sensor allows the pickup to "hear" just what the banjo is doing. The center foot of the bridge is driving the element directly for maximum output and clarity and it is due to this same placement of the element that also gives the BJ-02's their superior anti-feedback characteristics. It is very difficult for feedback to drive the pickup in reverse due to the overall stiffness of the bridge area.
On a 'normal' banjo with a three footed bridge, the pickup is to be installed on the underside of the head directly under the centre foot of the bridge. On tenor banjos or banjos having a two footed bridge, the suggested placement for the pickup is on the underside of the head directly under the bass side bridge foot.
The BJ-02M, with its simple metal jack assembly will fit all standard banjos, as well as the Deering Goodtime banjos. Please read the information in the 'Technical' tab on this page about tensioning hook spacing and Deering Goodtime banjos.
Pictures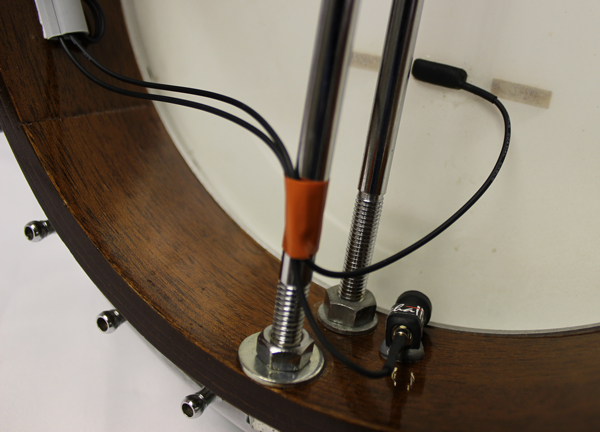 BJ-02M System (showing sensor and mic placement)
---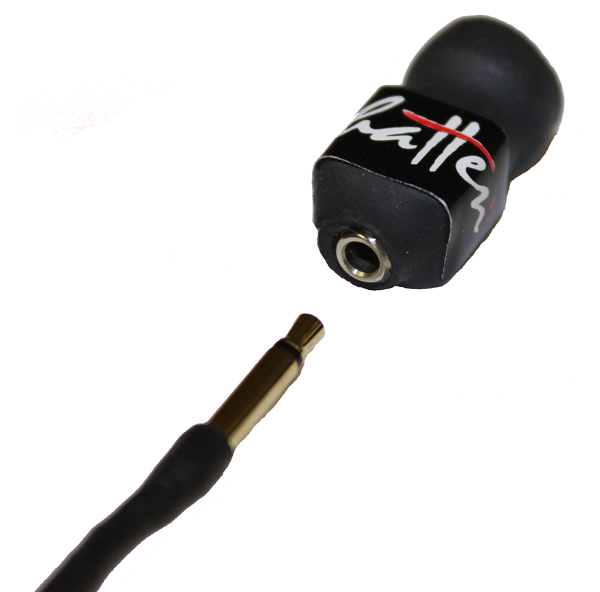 The M mic connects to the system via a micro jack and plug. This design feature allows the mic cable to be fed through any resonator flange.
---
Technical
Pickup Installation: On a 'normal' banjo with a three footed bridge, the pickup sensor is to be installed on the underside of the head directly under the centre foot of the bridge. On tenor banjos or banjos having a two footed bridge, the suggested placement for the sensor is on the underside of the head directly under the bass side bridge foot. The pickup sensor is attached to the underside of the head with a drop of the supplied 5 minute epoxy. This epoxy provides proper adhesion of the sensor to the head and proper vibration tranference. The sensor is quite easily removable from the head and can be reused if one is installing a new head or is moving the system to a different banjo.
Pickup Installation Video (4 minutes): BJ-02 Installation Video
Pickup Uninstall Video (2 minutes): BJ-02 Uninstall Video

BJ-02M Installation Instructions (pdf): Installation Instructions
---
Upgrade Kits For Existing Banjo Pickups
BJ-02 M-Kit - Upgrade for all banjo pickups:contains two new jacks (3 conductor panel jack and 3 conductor black jack - previous BJ-02 and BJ-02 Player installations will re-use the existing 4 conductor jack), M microphone, mic lead cable with micro plug, Mini Pre 2 preamp, stereo connector cable, mounting putty, 3M VHB adhesive pads, instructions.
Notes: A soldering iron, some basic hand tools and a bit of solder is required for changing the jacks for the M Kits. Installation is simple and should take less than 30 minutes.
For Use With Other Brands Of Piezo Pickups and non-preamped magnetic pickups - In order to use our M-Kit, the output from the banjo needs to use a stereo (3 conductor) jack. The existing pickup (+) will use the tip contact, the M mic (+) will use the ring contact, and the pickup and mic will share the common ground sleeve (-). If the existing output jack of your pickup does not have 3 contacts, you should purchase our PBJA banjo jack assembly.
For Use With Magnetic Pickups that have a preamp - An output jack with four contacts will be required to combine an existing preamped magnetic pickup with our M-Kit. This fourth contact has to be used to turn the battery for the magnetic pickup preamp on when plugged into the jack on the banjo. If the existing output jack of pickup does not have 4 contacts, you should purchase our PBJA banjo jack assembly.
BJ-02 M-Kit Installation Instructions (pdf): Installation Instructions
---
Tensioning Hook Spacing and Jack Assemblies:
For Standard Banjos and Deering Goodtime Banjos - The BJ-02M with the simple metal assembly will fit almost all banjos including the Deering Goodtime banjos.
Notes: On the Goodtime banjos, the distance from the center of one hook to the center of the next hook is approximately 2 1/4". The BJ-02's simple metal jack assembly has a maximum span of 2 1/2".
On standard banjos the center to center distance from one hook to the next is approximately 1 1/2".
Some older banjos may have wider than normal spacing between hooks. If you are in doubt, please measure the center to center distance of the hooks on your banjo.
Sound
The pickup sound samples posted below were all made using normal BJ-02's and do not include samples made with the new BJ-02M.


A thank you to Larry Johnston for the following mp3's. Larry indicates that the BJ-02 pickup is installed in a 78 Gibson RB250 with a Tennessee 20 tone ring and First quality replacement shell.
It was recorded using a Zoom H4, with no enhancements.
---
The following two sound bites were recorded simultaneously. The first is the banjo through a condenser mic. The second is the banjo through the BJ-02 pickup.
A nice thank you to Gerhard Pehland in Germany for the banjo work and for allowing us to borrow.....


Banjo through condenser mic (446 kb)
Banjo through BJ-02 pickup (446 kb)
Artists
First Time Ever: I've put a pickup on my banjo.

It not only makes amplifies the sound but it enhances the tone. Quantity plus quality. A 1954 Vega long-neck and a 2010 Schatten pickup: the perfect couple!

Peggy Seeger www.peggyseeger.com
PEGGY SEEGER, member of the North American musical Seeger family, is a singer of traditional Anglo-American songs and activist songmaker. She plays six instruments: piano, guitar, 5-string banjo, Appalachian dulcimer, autoharp and English concertina.

Peggy has recorded 22 solo albums and participated directly in more than a hundred others. She lived in England for 35 years with the singer/songmaker Ewan MacColl and has three children and seven grandchildren.

She now lives in Boston, Massachusetts, and tours regularly worldwide. She records exclusively for Appleseed Recordings, putting out out a new CD every 18 months.

---
Thanks for getting that shipped out so quickly. It was at the venue in Portland when we arrived and I was able to install it right away and used it that night. I will email our management and have them add Schatten Design to our site.

I have tried many different banjo pickups and the Schatten provides the most natural sound while completely eliminating feedback. I wish I would have discovered them years ago.
Thank you Schatten Design.

Dave Carroll
Trampled By Turtles
---
I grabbed a BJ-02 and DI-plus a little while ago. I just wanted to let you know that I installed the pickup quickly with no problems and I'm really impressed by the sound quality and warm tone. I am using it on my open back banjo and it represents the acoustic, clawhammer sound very well.
I recently used it at a gig with the DI-plus, and the live sound was very impressive.
Dan Belgue
The Blackwood Two
---
I fitted the 'BJ-02 Pro' to my Kel Kroydon banjo 4 weeks ago and have gigged it hard. In a word, it's Awesome! I have spent so much money on every top dollar pick-up out there and none of them compare to the Schatten.
Easy installation, well hidden, aesthetically pleasing, excellent volume control, and superior tone...I haven't found anything else that even comes close! I can't wait to try Schatten on my fiddle and guitar! Great job from the Pro's. Johnny Butten

Johnny Butten,
The world's fastest banjo player, proudly displays his Guinness World record.

His official certificate from Guinness reads: The fastest banjo player is Johnny Butten (UK) who played Duelling Banjos at a speed of 260 beats per minute at the Newquay Bluegrass Festival, Newquay, Cornwall, UK, on 15 September 2007.

www.johnnybutten.com

---
Hey Les, I just installed the Schatten BJ-02 banjo pickup on my Wildwood Troubador open back banjo, it sounds great. The BJ-02 is just the ticket for playing in noisy clubs and dances or anyplace you need more volume.
I'm running mine through the Schatten Preamp-DI and the sound is very natural. Who cares about a better mouse trap, you've made a louder banjo! The world's a better place, you may be up for a Nobel Prize.

"Rooster" Rick Jackofsky - The Homegrown String Band
---
I've tried many pickups for my banjo and for the last three years I've been stuck on the Schatten. Not one performance problem and the tone is absolutely great!! My search has been over for a while.
Try it and you'll see what I mean.
Don Wayne Reno
---
Hello to all you nice folks at Schatten Design.

I just wanted to send you a quick note to let you know how pleased I am with the Schatten BJ-02-STD banjo pickup that I just installed. And, to let you know that my entire experience with your company has been a pleasure.

Your online ordering process is excellent. My shipment arrived in a very timely manner. The installation instructions were clear and concise and the pickup installed very easily.

And, best of all, the pickup sounds GREAT!!! My banjo never sounded better. Since I play clawhammer style without a resonator, I was curious to see how well the pickup would work. Turns out, it works great. I'm very pleased. Thank you for making a great product, and being so easy to do business with.

Sincerely,

Jim Johnson

---
Hello there Schatten Design,
I received a banjo pickup and DI from you guys last summer and havent got around to telling you how much I love it. Onstage it sounds fantastic and does a great job of reproducing the natural sound of my banjo. The Ultra Sound DI is the perfect compliment to dial in just the right tone.
The best thing is that I have plenty of volume to get over the clanking of beer bottles! When we perform in concert halls it works well with a stand along microphone to make my banjo fill the room very well.
Thanks so much for the great service and for putting a wonderful product out there for all us pickers.
Mike / Spaghetti Western String Co. Minneapolis, MN
www.spaghettiwesternmusic.com
---
Hello,

I just wanted to let you know how satisfied I am with my BJ-02 pickup.

I am now "plug-and-play", no need to fight with a microphone and feedback ( the sound guys loves me now!), and I can stand up to our brass section without worrying about them actually hearing me (they do now!). It truly feels good to actually sound like a banjo and get positive feedback about it.

And I got so many good comments about your guitar systems that my other instruments are now getting the "Schatten upgrade".

Cheers

Banjo Ben Duval

www.Myspace.com/subcollisions

---
The banjo pickup was installed on one of my Scorpion banjos (i.e. the ones I build) which is going to be delivered in the hands of its buyer in a couple days. Man, that pickup is hot AND natural, I love it, and I wish we would play plugged-in sometimes so I could mow the audience with a few notes and a
great sound!

BTW, I noticed that to my ear the acoustic sound is better if the pickup is sort of straddling between the middle foot of the bridge and the head right behind it, with no loss in the electric sound. Just my
observation. And there is no tendency to feed back anyway. Also the head must be adjusted for a kinda higher tension: the tapping tune without pickup, around G# initially, dropped down to almost F# with the pickup, so I tightened the head to G# again and the sound improved a lot both acoustically and electrically.
Further tightening to almost A resulted in a clearer sound both ways, no muddiness anywhere, and a lot more volume acoustically without losing lows at all. Piece of cake...Martino Coppo, the mandolin player of my band (Red Wine) has been using your pickup on his mandolin for a few months, he loves it................
OK, let's try to attach a couple pics, more will follow separately. Thanks
again for a great product, take care.

Silvio

---
A banjo sounds like a banjo, a mandolin sounds like a mandolin (as opposed to all sounding like electric guitars).
Our pickups allow us to blast out the sound required to pacify certain audiences without sacrificing the acoustic timbre of our variety of instruments, we have used them with great success.
The band employs banjos, guitar, mandolin, fiddle, a trap set, a doghouse bass, many kazoos, and a whole host of other toys to create their irresistible sound, a truly Special blend. Jug band, Bluegrass, Old-Timey, String Band, Vaudevillian, Jazz, call it what you will, it's just American music (except when it's Eastern European).
Josh B.
Special Ed and the Shortbus
Richmond's Premier Twisted String Band
2007 SE Independent Music World Series Champions!
2008 1st Prize Neo-Trad Band - Clifftop Appalachian String Band Festival
---
Kudos!
Finally someone created a great sounding pick-up that even a dummy like me can install. It arrived in my mailbox two days after I ordered it online. Thank you!
John Wort Hannam
From Fort Macleod, Alberta Canada, this songwriter sings blue collar roots music that reflects his rural Canadian surroundings.

---
Hi Les, I just wanted to get back to you with a review of your Schatten banjo pickup. I played a gig the other night with my Celtic group the Blackthorn Band. In this band the banjo has to compete with multiple other instruments, including bass and drums. I have tried all the major brands and have always had problems with feedback and trying to get a natural banjo sound.
I instantly noticed the difference with the Schatten on my Deering 5 string. At the end of the first tune, the guitar player turned to me and said, "Hey that sounds like a banjo!" The greatest thing is that you actually have a dynamic range- you can pull back or drive forward full attack and the pickup knows the difference. The banjo sounded warmer and fuller- not at all shrill. You've got a real winner here!
Jim O'Connor and the Blackthorn Band

This note from Jim two and a half years later, after installing a second BJ-02 in another one of his banjos:

Les,
I just wanted to send you a quick note to let you know how pleased I am with the new pickup and jack assembly you sent.
Much easier to install and use- and more consistent in sound, than that famous pickup maker from down my (Massachusetts) way. After fooling around with those for a few years I am really glad I called you- it is the solution to making the banjo sound natural in a noisy environment with a noisy band.

---
Hi,
I just want to say thank you for your GREAT Service & Fast Shipping! The pickup (a BJ-02-STD ) sounds Excellent, reproducing the true acoustic sound of the banjo. I will surely keep you in mind for any more pickup needs & would recommend you to my friends & associates.

......Feel free to use the note! Our group is called "The Too Old Folks".
Sincerely,

Jeannie Marselles

---
About Pickups & Amps
Terminology
Passive Pickup - A piezo pickup.
Impedance - To simplify things as much as posssible we'll say that impedance refers to the range in which an amplifying device can 'hear' a pickup plugged into it.
Preamp - A device specifically designed for use with piezo pickups that increases the signal strength and lowers the impedance of a passive pickup.
Active Pickup - A piezo pickup with an attached preamp.
Microphone Preamp - a device that may be built into P.A.systems and mixers that is designed to work with microphones. These units will not generally work with passive pickups.
'Normal' Electric Guitar Amps: A passive pickup has an impedance of approximately 2 mega ohms (2 million ohms) which virtually all 'normal' electric guitar amps can generally handle without issue.
'Acoustic' Amps: may or may not require the use of a preamp with a pickup and that will depend upon whether or not there is a special built in preamp section to that amp that specifically allows for the choice in plugging in either a passive (non-preamped) or active (preamped) pickup. This choice is quite often in the form of pushbutton on the amp's control panel. Many acoustic amps show a selection that may indicate the choice of 'high impedance' and 'low impedance'.
Low impedance in these instances usually indicates that in this range the amp will handle an impedance of 1000 ohms or less - which will allow active pickups with preamps to be used.
High impedance in these instances may indicate an allowable impedance into the 2 or 3 mega ohm range - which will allow passive pickups to be used. Or it may indicate a maximum input impedance allowed of 20,000 ohms or less - which will handle magnetic electric guitar pickups but not passive pickups. You should carefully read the technical specifications of your acoustic amp in order to see what it will do.
P.A. Systems, Mixers: all of these units will require the use of a preamp between themselves and a passive pickup. Microphone preamps built into P.A.'s and mixers are not designed for use with passive pickups and will not work properly.
Computers: Due to the vagaries and variables inherent in the sound cards found in computers, the only thing that we can advise is that a preamp will almost certainly be necessary.