Schatten RB Series Bass and Rock-A-Billy Bass Pickups
From Basic Bass to Rockabilly
...the RB series offers you a bass pickup tailored to your playing styles and requirements.
Outstanding - We've created a series of great sounding bass pickups that are easy to install, non-invasive and intelligently designed. The RB series is available in both passive and active formats.
The passive RB pickup models work perfectly well and sound good when plugged straight into any decent quality bass amp.
The active RB models are made for those players that need to be able to plug directly into P.A. systems and prefer to have the convenience of an on board preamp on their bass.
Those players that require a preamp but don't want one on their bass may choose to use the passive RB of their choice and utilize one of our Mini Pre outboard preamps.
Details
There are four RB models:

The RB-1 (passive) provides our RB bass bridge sensor wired to a small black jack assembly that easily clips between the strings just above the tailpiece.

The RB-1A utilizes the RB sensor and adds a velcro mounted combination preamp and jack assembly that attaches to the back side of the tailpiece.

The RB-2 (passive) provides our RB bridge sensor, black jack assembly and adds a second sensor to the underside of the fingerboard for that Rock-A-Billy string slap. Included with the RB-2 is a pair of integrated thumbwheel volume controls that mount to the underside of the fingerboard that allow for convenient pickup balance and volume adjustment.

The RB-2A gives you everything the RB-2 provides and adds the preamp/jack assembly that attaches to the rear of the tailpiece.
Installation Instructions: RB-1, RB-2 (passive) pdf RB-1A, RB-2A (active) pdf
Optional Jack Bracket - For mounting jack to back side of tailpiece pdf
Pictures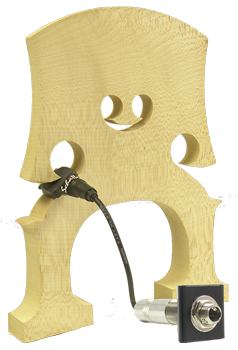 RB-1 (passive) with Black Jack Assembly
---
RB Jack Bracket Kit
An optional bracket is available for mounting the output jack of RB-1 and RB-2 passive pickups to the back side of a bass tailpiece.


more
---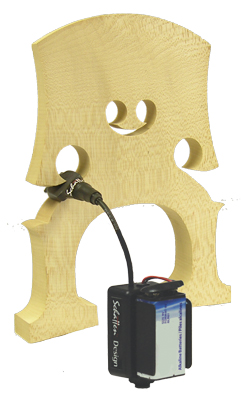 RB-1A with Preamp/Jack Assembly (verlcro mounts behind tailpiece)
---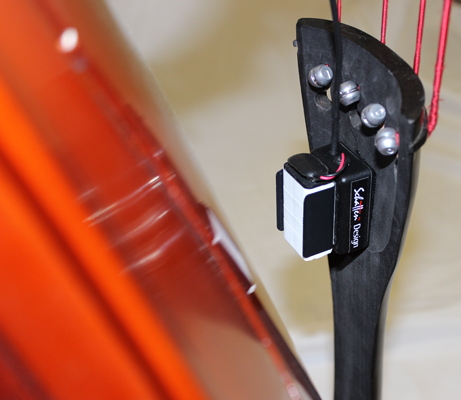 The RB-1A and RB-2A Preamp/Jack Assembly attaches to the underside of the tailpiece with the supplied industrial strength velcro.
---
RB-2 (passive) Rock-A-Billy Bass Pickup with extra Slap Sensor and Two Volume Controls
---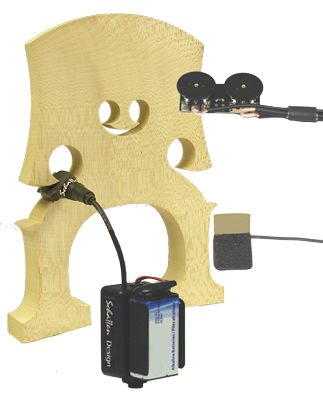 RB-2A Rock-A-Billy Bass Pickup with Preamp, extra Slap Sensor and Two Thumbwheel Volume Controls. The volume controls mount easily to the underside of the fingerboard up near the neck/body joint.
---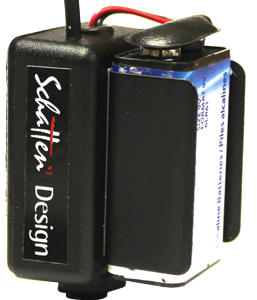 The new preamp and jack assembly provided with the RB-1A and RB-2A is lighter and much more compact than the unit it replaces. The preamp provides 4 db of gain in a fully shielded jack assembly with a standard 1/4" output jack. The 9 volt battery will last for approximately 1500 hours of use.
---
Technical
Main Sensor: The RB sensor element is designed to fit in the wing slot of a bass bridge. Normal placement of the sensor is in the bass side slot. The sensor has a nominal thickness of 0.25" (6.35mm) and requires a slot opening of approximately 0.225" (5.7).
The fit of the sensor in the slot is meant to be snug and there is intended to be a slight interference fit. The sensor will compress slightly as it is pushed into the wing slot.
Black Jack Assembly: Provided with the two passive systems (RB-1 and RB-2), the black jack assembly simply clips between the D and A strings just above the tailpiece. The output jack itself is a standard 1/4".
Extra Slap Sensor: Designed for Rock-A-Billy, the Extra Slap Sensor is provided with RB-2 (passive) and RB-2A systems. This extra pickup installs to the underside of the Bass fingerboard with 3M VHB foam tape.
Volume Controls: The RB-2 and RB-2A systems (the systems that have the Extra Slap Sensor) come with thumbwheel volume controls. These units install to the underside of the fingerboard with 3M VHB foam tape.
Preamp/Jack Assembly: This combination Preamp and Jack Assembly comes with the RB-1A and RB-2A systems. The unit installs quickly and easily to the back side of the tailpiece and is held in place with some strong industrial strength velcro.
Artists
Great pickup! Just played a show with the RB-2A on my upright. Many compliments on the sound! The sound engineer was very impressed with my upright. He told me it was best sounding upright he's mixed. He told me most are muddy but mine was great.
Fellow musicians in the crowd said every note was clear through the house system. The slap sound was amazing. When I heard the slap/clicks comming from the FOH while on the stage I knew I made the right choice in pickups.

Rick VanRycheghem
Bass player for Stephanie McIlroy

---
Hello,
I installed one of your new RB-1 bridge wing pickups on my double bass this week, and I am VERY happy with the tone of this pickup. It has a very natural full-range tone, fat bottom, clean clear articulate mids and present highs.The RB-1 reminds me of a "dream" cross between the K&K bass max (fat bass, feedback free but very boomy/electric sounding) and the Upton rev solo II (natural, woody, but harsh/trebley & feedback prone). The RB-1 has the best qualities of both pickups but without the negatives. It has a very balanced tone and requires little EQ.

I think you have a real winner here. It is very sturdily constructed, very competitively priced (Great price!!) and sounds just great. It is easy to install and not finicky about installation, etc. This pickup is very feedback resistant, even at loud volumes...... Great job on a really great pickup! I think with a little advertising, Youtube soundclip videos, and maybe some artist endorsements, you could have a competition-killer here.
I have never actually written to a company in praise of any product before, but am so impressed with your bass pickup that I had to write. Amongst an ocean of available bass pickups, the RB-1 really stands out as a great value.

Thanks,
--
Mike B.
---
Here's an interesting discussion on the RB series as posted on the DoubleBassChat forum:
(the page will open in a new pop-up window):

click here
---
About Pickups and Amplification
Terminology
Passive Pickup - A piezo pickup.
Impedance - To simplify things as much as posssible we'll say that impedance refers to the range in which an amplifying device can 'hear' a pickup plugged into it.
Preamp - A device specifically designed for use with piezo pickups that increases the signal strength and lowers the impedance of a passive pickup.
Active Pickup - A piezo pickup with an attached preamp.
Microphone Preamp - a device that may be built into P.A.systems and mixers that is designed to work with microphones. These units will not generally work with passive pickups.
'Normal' Electric Bass Amps: A passive pickup has an impedance of approximately 2 mega ohms (2 million ohms) which virtually all 'normal' electric bass amps can generally handle without issue.
'Acoustic' Amps: may or may not require the use of a preamp with a pickup and that will depend upon whether or not there is a special built in preamp section to that amp that specifically allows for the choice in plugging in either a passive (non-preamped) or active (preamped) pickup. This choice is quite often in the form of pushbutton on the amp's control panel. Many acoustic amps show a selection that may indicate the choice of 'high impedance' and 'low impedance'.
Low impedance in these instances usually indicates that in this range the amp will handle an impedance of 1000 ohms or less - which will allow active pickups with preamps to be used.
High impedance in these instances may indicate an allowable impedance into the 2 or 3 mega ohm range - which will allow passive pickups to be used. Or it may indicate a maximum input impedance allowed of 20,000 ohms or less - which will handle magnetic electric guitar pickups but not passive pickups. You should carefully read the technical specifications of your acoustic amp in order to see what it will do.
P.A. Systems, Mixers: all of these units will require the use of a preamp between themselves and a passive pickup. Microphone preamps built into P.A.'s and mixers are not designed for use with passive pickups and will not work properly.
Computers: Due to the vagaries and variables inherent in the sound cards found in computers, the only thing that we can advise is that a preamp will almost certainly be necessary.