Schatten C-12 Std. Cello Pickup
All New And Redsigned - Stick-On Pickup Attaches To The Existing Bridge
...you don't have to change or modify the bridge on your cello in order to get a good sounding pickup.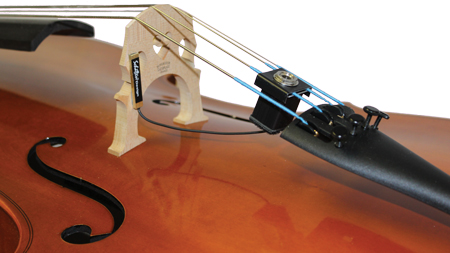 A combination of tremendous sound coupled with amazing response. This pickup is truly one of a kind.
The new C-12 Std. model cello pickup is now available and it offers even more brilliance and clarity of sound than our previous C-12 unit.
A Pickup System When You Need It
As you can see by the picture, the piezo sensing unit is quite small and light in weight. It is only 1/8" thick, 1/4" wide, and 1 1/2" in length. It goes on to your cello bridge with a little bit of the special putty that comes supplied with the pickup.
The pickup system can be installed on your cello in about 3 minutes and was designed to allow you to install and remove it quickly and easily.

| | |
| --- | --- |
| | |
Details
There is no acoustic degradation or loss of normal acoustic tone or volume. The pickup has excellent volume, and is strong and sweet throughout its' full dynamic range.

Features:
Ease of installation, the pickup adheres to the bridge with a little bit of the supplied non-marring putty.
The C-12 Std comes ready to go and is pre-wired to a lightweight jack assembly that mounts quickly and securely between the center strings just above the tail piece. The jack assembly has a normal 1/4" output jack and takes a standard 1/4" guitar cord.

Clean, clear sound reproduction.
This pickup has been designed to operate properly and sound terrific without the use of a preamp when plugged into any 'normal' amp (guitar amp, bass amp, etc.). As with any pickup, the sound can be further enhanced with an outboard preamp. If you require the added ability to be able to plug directly into a P.A. or mixer then you may wish to add one of our Mini Pre outboard preamps.
Pictures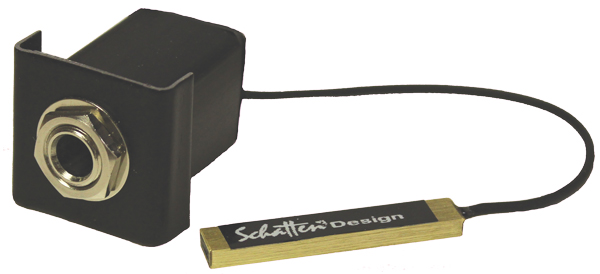 C-12 Std Cello Pickup with the new Lightweight Jack Assembly
---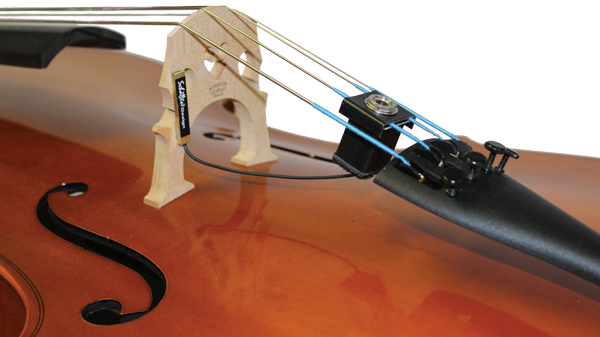 The C-12 Std sensor adheres to the existing bridge.
---
Artists
After a brief period learning about impedance, I have now used the unit in several shows, running my cello sound into my laptop and processing live.
The signal to the computer is clean and detailed, the results out of the loudspeakers are great.
Healthy volumes, with no feedback and the ability to install and remove the unit quickly and easily. It's perfect for my needs and I recommend it happily!
Thanks again
Norm



Norman Adams
cellist, improviser
Principal Cellist - Symphony Nova Scotia
Artistic Director - suddenlyLISTEN music
Halifax, Nova Scotia, Canada
---
About Pickups and Amplification
Terminology
Passive Pickup - A piezo pickup.
Impedance - To simplify things as much as posssible we'll say that impedance refers to the range in which an amplifying device can 'hear' a pickup plugged into it.
Preamp - A device specifically designed for use with piezo pickups that increases the signal strength and lowers the impedance of a passive pickup.
Active Pickup - A piezo pickup with an attached preamp.
Microphone Preamp - a device that may be built into P.A.systems and mixers that is designed to work with microphones. These units will not generally work with passive pickups.
'Normal' Electric Guitar Amps: A passive pickup has an impedance of approximately 2 mega ohms (2 million ohms) which virtually all 'normal' electric guitar amps can generally handle without issue.
'Acoustic' Amps: may or may not require the use of a preamp with a pickup and that will depend upon whether or not there is a special built in preamp section to that amp that specifically allows for the choice in plugging in either a passive (non-preamped) or active (preamped) pickup. This choice is quite often in the form of pushbutton on the amp's control panel. Many acoustic amps show a selection that may indicate the choice of 'high impedance' and 'low impedance'.
Low impedance in these instances usually indicates that in this range the amp will handle an impedance of 1000 ohms or less - which will allow active pickups with preamps to be used.
High impedance in these instances may indicate an allowable impedance into the 2 or 3 mega ohm range - which will allow passive pickups to be used. Or it may indicate a maximum input impedance allowed of 20,000 ohms or less - which will handle magnetic electric guitar pickups but not passive pickups. You should carefully read the technical specifications of your acoustic amp in order to see what it will do.
P.A. Systems, Mixers: all of these units will require the use of a preamp between themselves and a passive pickup. Microphone preamps built into P.A.'s and mixers are not designed for use with passive pickups and will not work properly.
Computers: Due to the vagaries and variables inherent in the sound cards found in computers, the only thing that we can advise is that a preamp will almost certainly be necessary.