Schatten Celtic Harp and Pedal Harp Pickup - CH-3 Artist
The Sound Quality Of A Studio Mic, The Convenience Of A Pickup

First introduced in April 2006 and having just undergone a full redesign in September 2017, our CH-3 Artist pickup system will work flawlessly on both Celtic harps and Pedal harps. Complete with its' own integrated preamp, this pickup delivers full, rich sound quality and ease of installation in one neat package.

This pickup system comes with a specially designed preamp. Both the pickup and preamp install non-invasively as there are no holes to drill and no modification is required to the instrument to install this system. The piezo sensing unit is a further development of our HFN series of pickups and combines our MicroPre preamp with a revolutionary piezo design in soundboard mounted transducers.

Simply put, what you get out of this pickup system is the exact sound of your harp......it allows your harp to sound just like you know it sounds: fully acoustic, tonaly open, and warm.
Details
The CH-3 Artist pickup system comes complete and ready to install. Installation of the pickup sensor is quite simple, as the unit adheres to the soundboard with our special mounting putty. The mounting of the preamp is equally easy as preamp assembly simply attaches with velcro to an inside surface of the sound box.

Since the pickup system comes with it's own integrated preamp, you don't need to buy an external outboard preamp. Everything that you need to get it right is supplied. The only things that you will need are a 9 volt alkaline battery and a 'guitar cord' to plug in.

This pickup system has been tested on Lyon & Healy pedal harps, Salvi Celtic and pedal harps, Triplett Celtic harps, Dusty Strings Celtic Harps, and Rees Celtic harps. The CH-3 Artist fits properly and sounds good on all of these harps.
Pictures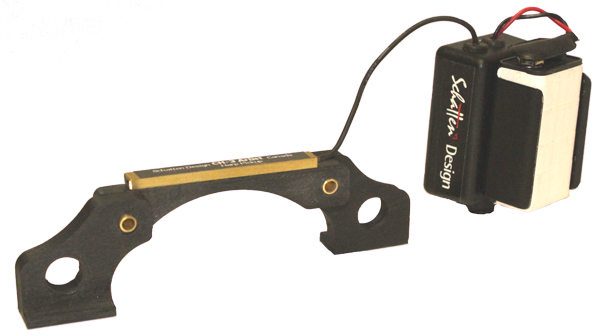 CH-3 Artist Harp Pickup with preamp
---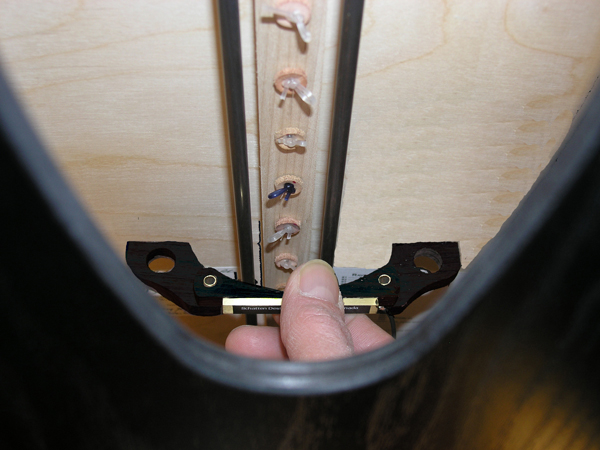 The CH-3 sensor mounted to the soundboard
Note: the 'feet' of the pickup base are fully articulated to more easily fit soundboard curvature.
---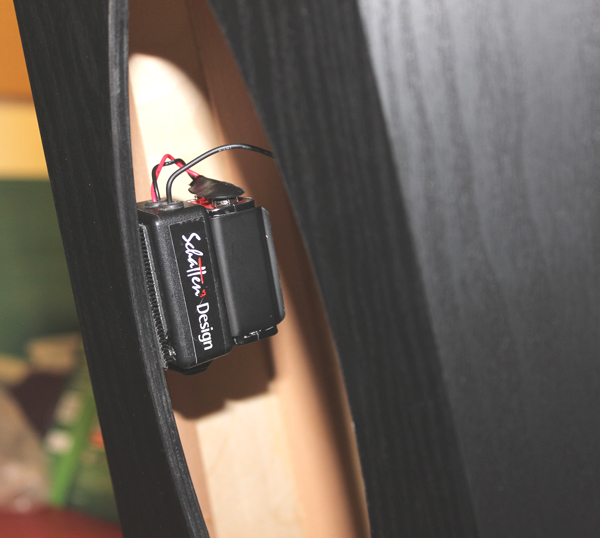 CH-3 Artist Preamp mounted to the back surface of the sound box
---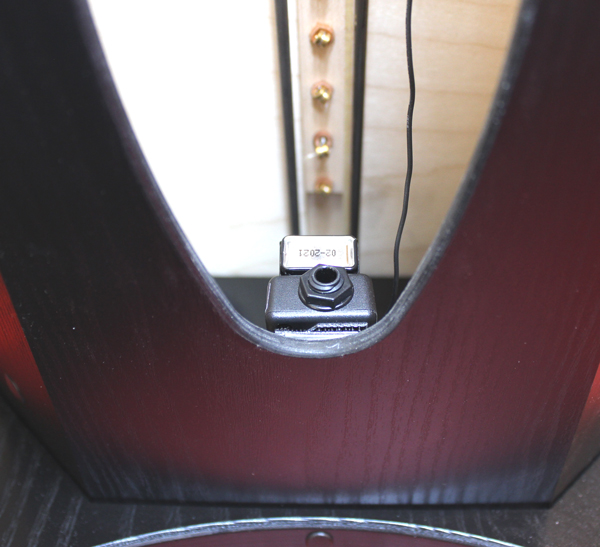 CH-3 Artist preamp shown mounted at the bottom of the back of the sound box. Note that it doesn't matter where the preamp is mounted as long as the output is accessible for plugging a cord in.
---
Technical
Revised base design more easily fits soundboard curvature

The feet of the pickup base are fully articulated. This means that the pickup will fit the curvature inherent in virtually any harp soundboard quickly and easily and without modification to either the pickup or the harp. The pickup base also now offers more clearance height so the pickup will fit harps with internal reinforcing rods (such as in a Ravenna) and more clearance span to more easily fit harps with larger string strips (such as many pedal harps.
The pickup sensor is designed to be installed approximately one-third of the way up from the bass end of the soundboard. The pickup spans the string strip which allows the piezo unit to sample sound over a large area of a harp's soundboard. The material that the pickup's feet and arched structure is made from is 3D printed ABS. 3D printing these pickup parts allowed us to engineer in air chambers and vibration transmissive structure. The result is a pickup that sounds just great.

The transducer unit attaches to the soundboard with our special supplied putty. This putty provides a solid and secure mounting for the pickup but still allows for quick and easy removal of the system.This pickup system has been tested on Lyon & Healy pedal harps, Salvi Celtic and pedal harps, Triplett Celtic harps, Dusty Strings Celtic Harps, and Rees Celtic harps*. The CH-3 Artist fits properly and sounds good on all of these harps.
New preamp assembly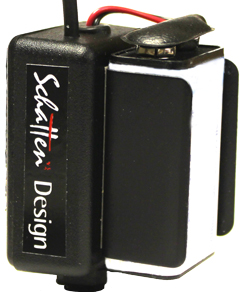 The preamp for the CH-3 Artist is much smaller and lighter now. With the 9 volt battery and holder now intergrated with the preamp itself, it is much easier to secure the unit within the harp. It mounts with the supplied industrial stregth velcro.
The lead wire from the pickup to the preamp is approximately 24 inches in length. Almost 18 inches of that lead wire may be stored within the preamp box by simply pushing the wire into the box. This helps keep the installation neat and tidy.
The preamp provides 4 db of gain and allows the pickup system to work properly when plugged into any amp, acoustic amp, or PA system.
The preamp is turned on when an output cord is plugged into the unit. A normal alkaline battery will last approximately 1500 hours under normal playing conditions.
The pickup comes fully wired and assembled. The only things that you have to provide are a 9 volt alkaline battery for the preamp and a standard 'guitar' cord to plug into between your armplification and the pickup system.
Total installation time is normally a couple of minutes at the most. It's that easy.
A 24 inch shielded wire connects the piezo unit to the preamp unit. There is more that enough wire to allow the pickup to be placed where required and to be able to mount the preamp unit in a suitable location.

View Installation Instructions: CH-3 Artist (pdf)
Sound
Thank you to Sahra Featherstone for the following sound clip:
Pipe On The Hob - CH-3 Artist
---
Artists
The pickup arrived this week and we installed it on my Henry Meikle harp. It provides a stunningly accurate aural picture of the acoustic signature of my instrument. Putting my ear up to the amp was like hearing a fine condenser microphone - all the nuance, finger caresses, and inherent richness of the harp's nylon strings were captured with amazing accuracy.

I am extremely excited about performing and recording with my new Schatten CH-3 Harp Pickup.
Sahra Featherstone, Toronto Ontario www.sahrafeatherstone.com
---
To: Schatten Design

I recently purchased your CH-3 Artist harp pickup. It is attached to my Venus Paragon Grand Concert Pedal Harp. I order the pickup from the Harp Connection in Salem, Massachusetts after reading their newsletter about the CH-3.
I AM VERY PLEASED WITH IT!

I was very disappointed with the ******* pickup I had; it brightened the harp to sound more like a guitar.....and the notes closest to the pickup were obnoxiously loud.

Your CH-3 Artist accurately reproduces the SAME lovely sound my harp makes acoustically and shows no note favoritism! Good Luck, and thanks for your excellent pickup.
Sincerely,
Robert L. Strong - Graceville, Florida

---
I just purchased the Schatten CH-3 Artist Pickup for Celtic Harps and Pedal Harps. I have a CAMAC Athena Concert Grand and it sounds absolutely amazing!!!

Thanks so much.
Shirley Hardy

www.huntsvilleharpist.com

Shirley plays harp, piano & percussion throughout North Alabama, Tennessee, South Carolina & Mississippi. She plays for weddings, receptions, dinners, socials, funerals & visitations, retirement and assisted living facilities, and many churches. She also participates in various community activities and fund raisers as well as many special programs throughout the year. As Huntsville Times Reporter Greg Parker stated in a recent article published about Shirley - "Harpist Strives for Angelic Sound" ....and that she does.
---
About Pickups & Amps
Terminology
Passive Pickup - A piezo pickup.
Impedance - To simplify things as much as posssible we'll say that impedance refers to the range in which an amplifying device can 'hear' a pickup plugged into it.
Preamp - A device specifically designed for use with piezo pickups that increases the signal strength and lowers the impedance of a passive pickup.
Active Pickup - A piezo pickup with an attached preamp.
Microphone Preamp - a device that may be built into P.A.systems and mixers that is designed to work with microphones. These units will not generally work with passive pickups.
'Normal' Electric Guitar Amps: A passive pickup has an impedance of approximately 2 mega ohms (2 million ohms) which virtually all 'normal' electric guitar amps can generally handle without issue.
'Acoustic' Amps: may or may not require the use of a preamp with a pickup and that will depend upon whether or not there is a special built in preamp section to that amp that specifically allows for the choice in plugging in either a passive (non-preamped) or active (preamped) pickup. This choice is quite often in the form of pushbutton on the amp's control panel. Many acoustic amps show a selection that may indicate the choice of 'high impedance' and 'low impedance'.
Low impedance in these instances usually indicates that in this range the amp will handle an impedance of 1000 ohms or less - which will allow active pickups with preamps to be used.
High impedance in these instances may indicate an allowable impedance into the 2 or 3 mega ohm range - which will allow passive pickups to be used. Or it may indicate a maximum input impedance allowed of 20,000 ohms or less - which will handle magnetic electric guitar pickups but not passive pickups. You should carefully read the technical specifications of your acoustic amp in order to see what it will do.
P.A. Systems, Mixers: all of these units will require the use of a preamp between themselves and a passive pickup. Microphone preamps built into P.A.'s and mixers are not designed for use with passive pickups and will not work properly.
Computers: Due to the vagaries and variables inherent in the sound cards found in computers, the only thing that we can advise is that a preamp will almost certainly be necessary.