Schatten M-06 Series For Mandolin
Stick-On Pickup Attaches To The Existing Bridge
...you don't have to change the bridge on your instrument in order to get a good sounding pickup.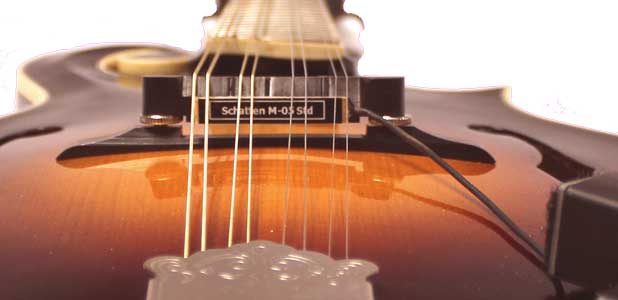 Simple - The M-06 Series of mandolin pickups for adjustable bridged instruments allows you add a pickup system to your mandolin without having to change your bridge or make any invasive changes to your instrument. Featuring our new CJA series jack assemblies (which simply clamp to the side of the instrument), the M-06's offer a real alternative to pickups that require bridge replacement.
The M-06 sensor is small and light in weight. Measuring only 1/4" high, 1/8" thick, and 1 1/2" in length it does not affect the acoustic sound of the instrument and will work on all 'normal' adjustable mandolin bridges. It will also operate properly on an Original Brekke bridge as well.
| | |
| --- | --- |
| | |
| M-06 Std. | M-06 Pro. with thumbwheel volume control |
The jack assemblies that come with the M-06 take a normal 1/4" guitar plug. The jack assembly for the M-06 Pro has a thumbwheel volume control integrated into the back of the jack body.
Details
Features:

Fits a wide range of mandolins The jack assemblies that come with the M-06 series mando pickups will fit mandolins from 1 5/8" to 2 7/16" thick (41.3 mm to 62.0 mm).
Ease of installation The pickup adheres to the bridge with either the supplied putty (if you're planning on installing and removing the system on a constant basis) or the VHB foam tape (for a more permanent installation). The jack assembly, available with or without a volume control, simply clamps to the side of the instrument.

Clean, clear sound reproduction This pickup has been designed to operate properly and sound good without the use of a preamp when plugged into any 'normal' amp (guitar amp, bass amp, etc.). As with any pickup, the sound can be further enhanced with an outboard preamp. If you require the added ability to be able to plug directly into a P.A. or mixer then you may wish to add our Mini Pre belt clipable preamp to your pickup system.
View Installation Instructions: M-06 series pdf
Pictures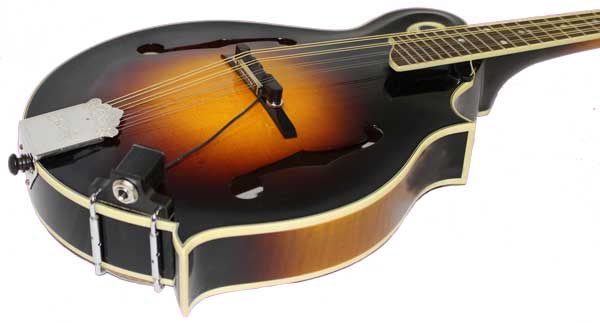 M-06 Std
---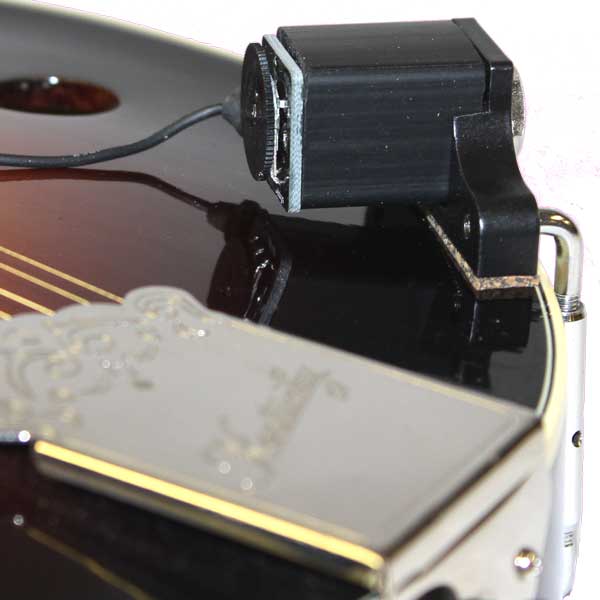 Close up of the M-06 Pro with thumbwheel volume control
---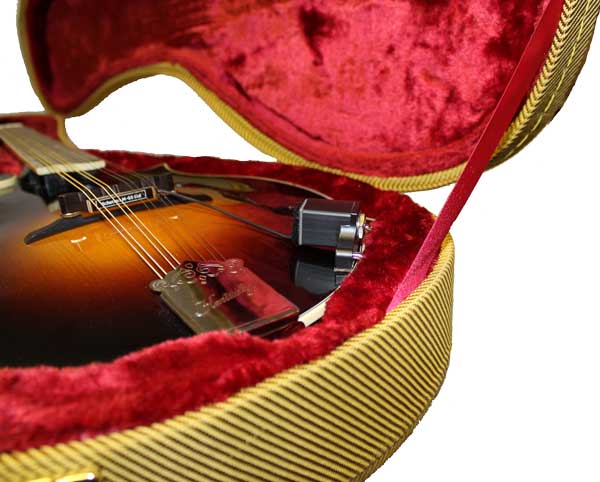 M-06's fit quite nicely into most mando cases.
---
Artists

Just a brief word on my new Schatten M-05 Pro Mandolin pickup.

First, after internet ordering, my pickup was at my door in under 2 1/2 days -- that's really fast service, no matter how you cut, slice or dice it!

Second, mounting the pickup on the back of the bridge and attaching the jack/volume control .....took a couple of trouble-free minutes. A big bonus for the clumsy fingered out there.

Third (and best of all), what a sound!!! Hoy cow, it sounds exactly like the acoustic voice of the instrument and, electrified, well, all I can say is that it absolutely CUTS through what a hard driving rock band can throw at it. And it whispers so beautifully on soft Celtic passages. This one is a winner.You guys have really done it. How about an 11 out of ten?

Dudlow Dudlow (aka Leigh Smardon) is a gigging and studio musician in Hamilton Ontario

---
About Pickups and Amplification
Terminology
Passive Pickup - A piezo pickup.
Impedance - To simplify things as much as posssible we'll say that impedance refers to the range in which an amplifying device can 'hear' a pickup plugged into it.
Preamp - A device specifically designed for use with piezo pickups that increases the signal strength and lowers the impedance of a passive pickup.
Active Pickup - A piezo pickup with an attached preamp.
Microphone Preamp - a device that may be built into P.A.systems and mixers that is designed to work with microphones. These units will not generally work with passive pickups.
'Normal' Electric Guitar Amps: A passive pickup has an impedance of approximately 2 mega ohms (2 million ohms) which virtually all 'normal' electric guitar amps can generally handle without issue.
'Acoustic' Amps: may or may not require the use of a preamp with a pickup and that will depend upon whether or not there is a special built in preamp section to that amp that specifically allows for the choice in plugging in either a passive (non-preamped) or active (preamped) pickup. This choice is quite often in the form of pushbutton on the amp's control panel. Many acoustic amps show a selection that may indicate the choice of 'high impedance' and 'low impedance'.
Low impedance in these instances usually indicates that in this range the amp will handle an impedance of 1000 ohms or less - which will allow active pickups with preamps to be used.
High impedance in these instances may indicate an allowable impedance into the 2 or 3 mega ohm range - which will allow passive pickups to be used. Or it may indicate a maximum input impedance allowed of 20,000 ohms or less - which will handle magnetic electric guitar pickups but not passive pickups. You should carefully read the technical specifications of your acoustic amp in order to see what it will do.
P.A. Systems, Mixers: all of these units will require the use of a preamp between themselves and a passive pickup. Microphone preamps built into P.A.'s and mixers are not designed for use with passive pickups and will not work properly.
Computers: Due to the vagaries and variables inherent in the sound cards found in computers, the only thing that we can advise is that a preamp will almost certainly be necessary.