Schatten Mini Pre &
NEW

Mini Pre 2 - Compact Preamps
Miniature Acoustic Instrument Preamps
Mini Pre
Single Channel Preamp

New

Mini Pre 2
Two Channel Configurable Preamp
The Mini Pre's - Compact in size at only 1 inch thick, 2 inches wide, and a touch over 3 inches in length (25mm x 50mm x 80mm). Weight is 4.5 ozs. (125 grams) with a battery.
Simple - We've kept things simple. When you're on stage there's a limit to the amount of stuff that you really want to have to deal with. So we gave the Mini Pre a volume control for its single channel, while the Mini Pre 2 has 2 volume controls (one for each of its channels), and that's it.
Solid - Tough enough to take years of stage abuse. The Mini Pre's are built into a rugged ABS box that is more than tough enough to stand on. Made in Canada.
Hang It Where You Want - The Mini Pre comes complete with a sturdy belt clip that installs on the preamp in a minute, so you may use to clip the preamp to your belt or strap.
Features:
* Clean, crisp sound amplification.
* Even, flat response.
* 9 volt battery powered with long battery life.
Dear Schatten,
I have waited a long time for exactly this kind of preamp, there's plenty of power, uncolored sound, it is small & simple, I didn't need tone controls, I'm a one knob kind of guy! It's perfect, all my instruments sound fabulous with it, and it weighs next to nothing!
I love it, thanks for making such great products, I have one of your violin pickups also.
Cheers,
Eddie Parente (in Portland OR)
Details
Mini Pre Specifications
Input - 1/4" Mono
Output - 1/4" Mono
Input Impedance - up to 10 MOhm
Output Impedance - Less than 3.5 kOhm
Trim pot on the circuit board for setting preamp input gain from 0 to 20 db.
Battery Life - 9 volt alkaline - 1500 hours
View Instructions for the Mini Pre (pdf)
Mini Pre 2 Specifications
Input - 1/4" Stereo TRS into 2 separate channels. If a 1/4" Mono cord is plugged into the input, then only Channel One will operate.
Output - Mono 1/4"
Configuration - Channel One will preamp a pickup, Channel Two will power and preamp a condenser mic -or- if a jumper is repositioned on the circuit board, Channel Two will simply preamp a second pickup.
Input Impedance - Each channel up to 10MOhm
Output Impedance - Less than 3.5kOhm
Trim pots on the circuit board for setting preamp input gain from 0 to 20 db for each channel.
Battery Life - 9 volt alkaline - 1300 hours
View Instructions for the Mini Pre 2 (pdf)
Pictures
---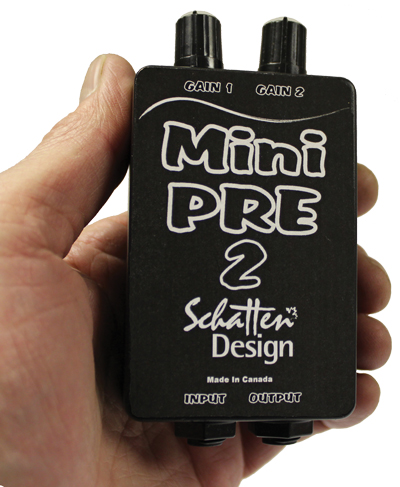 ---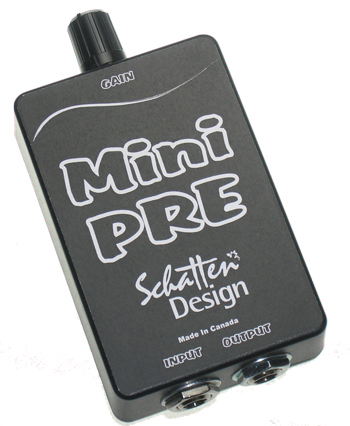 These pictures are the actual physical size of the preamp.
---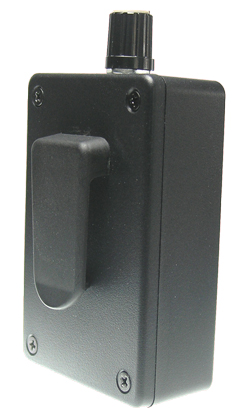 The belt clip comes with the Mini Pre's and installs to the unit in a minute.
About Pickups and Amplification
Terminology
Passive Pickup - A piezo pickup.
Impedance - To simplify things as much as posssible we'll say that impedance refers to the range in which an amplifying device can 'hear' a pickup plugged into it.
Preamp - A device specifically designed for use with piezo pickups that increases the signal strength and lowers the impedance of a passive pickup.
Active Pickup - A piezo pickup with an attached preamp.
Microphone Preamp - a device that may be built into P.A.systems and mixers that is designed to work with microphones. These units will not generally work with passive pickups.
'Normal' Electric Instrument Amps: A passive pickup has an impedance of approximately 2 mega ohms (2 million ohms) which virtually all 'normal' electric instrument amps can generally handle without issue.
'Acoustic' Amps: may or may not require the use of a preamp with a pickup and that will depend upon whether or not there is a special built in preamp section to that amp that specifically allows for the choice in plugging in either a passive (non-preamped) or active (preamped) pickup. This choice is quite often in the form of pushbutton on the amp's control panel. Many acoustic amps show a selection that may indicate the choice of 'high impedance' and 'low impedance'.
Low impedance in these instances usually indicates that in this range the amp will handle an impedance of 1000 ohms or less - which will allow active pickups with preamps to be used.
High impedance in these instances may indicate an allowable impedance into the 2 or 3 mega ohm range - which will allow passive pickups to be used. Or it may indicate a maximum input impedance allowed of 20,000 ohms or less - which will handle magnetic electric guitar pickups but not passive pickups. You should carefully read the technical specifications of your acoustic amp in order to see what it will do.
P.A. Systems, Mixers: all of these units will require the use of a preamp between themselves and a passive pickup. Microphone preamps built into P.A.'s and mixers are not designed for use with passive pickups and will not work properly.
Computers: Due to the vagaries and variables inherent in the sound cards found in computers, the only thing that we can advise is that a preamp will almost certainly be necessary.