Schatten TC Series Pickups for Tricone Resonator Guitars
TC Pickups Are Designed Specifically For Tricones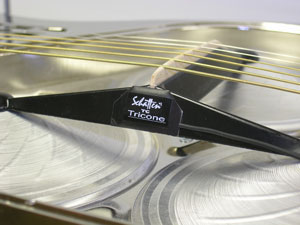 The TC series of pickups provide a really good sounding pickup that can be mounted quickly and easily to Tricone instruments without having to drill any holes for anything when installing either the TC Std or TC Pro.

All TC's are passive pickups and are available with your choice of either an endpin jack or one of two jack assemblies (one with a volume control) - both of which simply adhere to the instrument and snuggle in right next to to the tailpiece.
The MVC jack assemblies give you a much more secure and reliable mounting for an output jack assembly than anything that clamps to the side of the instrument. These jack assemblies, which nestle in right next to the tail piece, are only a half an inch high.
For those players who need or want to use a preamp, choosing the basic TC or the TC Std and pairing that choice up with our Mini Pre belt clipable outboard preamp would be the way to go.
Details
Features:
* Installs quickly - the sensing element attaches to the side of the 'T' bridge with 3M VHB tape adhesive.
* Excellent feedback resistance.
* Light weight. Does not alter the acoustic sound of the instrument.
* No modifications necessary - The Std and Pro model passive pickup systems may be mounted without drilling any holes.
* Superb Sound.
Clean, clear sound reproduction.
In passive format, this pickup has been designed to operate properly and sound terrific without the use of a preamp when plugged into any 'normal' amp (guitar amp, bass amp, etc.). As with any passive pickup, the sound can be further enhanced with an outboard preamp. If you require the added ability to be able to plug directly into a P.A. or mixer then you may wish to add our Mini Pre belt clipable preamp.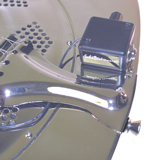 Installation Instructions:
TC, TC Std, TC Pro (passive) pdf
The low profile jack assembly is only 1/2" high and may be mounted either from a thin stand-off plate that adheres securely to the area under the tailpiece or may be mounted directly to the top with 3M VHB tape.
The MVCplus with volume control (shown right) provides a non-invasive means of putting an output jack assembly on a reso without damage.
Pictures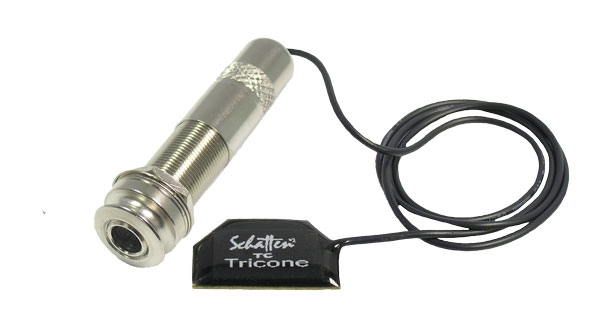 TC (passive) with endpin jack
---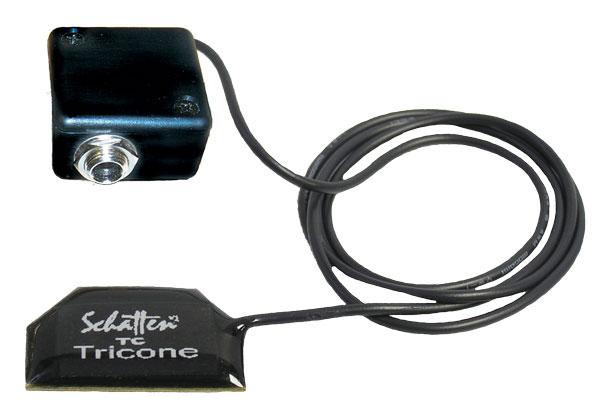 TC Std with MVC Jack Assembly
---
TC Pro with MVCplus with volume control
---
Artists
John McFee, a long time multi-instrumentalist with the Doobie Brothers uses and endorses Schatten Pickups.

"The Schatten TC pickups in my tricones sound as good as if the guitar had a live mike in front of it."

John is also an endorsee of Rebublic Guitars and owns 3 tricones, each with TC pickups and 3 Schatten Preamp/DI boxes.

www.doobiebrothers.net/biography/john-mcfee

---
".. I like the Schatten TC pickup very, very much!!
It's natural sounding, get's that great "cone-tone" and it captures the "honk" and the overtones of my tricone!! I've tried some pickups of the same kind as the Schatten but no one comes
close!
Sure, I could get nice sounds from other's as well but that took a lot of EQ work and testing pre-amps.. The TC I just plug in to any amp or PA and it sounds great right away!!! And it's more evenly balanced between treble and bass strings.. I love that!

For me, the most important feature from a resonator PU is the way it can reproduce the sound of the cone, and not just sound like any acoustic guitar. The TC does this in a very practical and convincing way!!

Thank you Schatten Design!!..

Johan Eliasson a.k.a. Bottleneck John, Sweden www.bottleneckjohn.com www.johaneliasson.com/BJTD.htm
---
"The TC passive pickup completes the circle for me as far as amplifying my tricone goes. I have investigated all avenues for this particular issue and the TC definitely fits the bill.
I use it alongside a magnetic pick up which covers my mid/low frequencies while the TC covers the mid/higher frequencies. This gives me the perfect amount of piezo talk with an impressive balanced sound across the bridge and fret board.
The TC complements the magnetic pickup, my finger picking and slide work fantastically. I play in a lot of varying live performance situations and the TC doesn't choke in these gigs. We all should remember that we are reproducing and imitating Resonator sounds with pickups and not trying to get the exact acoustic steel sound because that will never happen.
With that in mind the TC passive successfully gives me the right amount of light and shade I need for a great performance. Good stuff Schatten!

Kurt Williams and The Kurt Williams Band www.kurtwilliams.net
---
Dan is a multi-instrumentalist and he uses the RG-03 reso pickups on his Dobro type instruments and the TC pickups on his tricones.

"I use the TC in my Republic Tri-Cone resonator and this pickup sounds warm & nasty while retaining the characteristics of the steel body that I love so much." - Dan Walsh

www.baritonedan.com


---
About Pickups and Amplification
Terminology
Passive Pickup - A piezo pickup.
Impedance - To simplify things as much as posssible we'll say that impedance refers to the range in which an amplifying device can 'hear' a pickup plugged into it.
Preamp - A device specifically designed for use with piezo pickups that increases the signal strength and lowers the impedance of a passive pickup.
Active Pickup - A piezo pickup with an attached preamp.
Microphone Preamp - a device that may be built into P.A.systems and mixers that is designed to work with microphones. These units will not generally work with passive pickups.
'Normal' Electric Guitar Amps: A passive pickup has an impedance of approximately 2 mega ohms (2 million ohms) which virtually all 'normal' electric guitar amps can generally handle without issue.
'Acoustic' Amps: may or may not require the use of a preamp with a pickup and that will depend upon whether or not there is a special built in preamp section to that amp that specifically allows for the choice in plugging in either a passive (non-preamped) or active (preamped) pickup. This choice is quite often in the form of pushbutton on the amp's control panel. Many acoustic amps show a selection that may indicate the choice of 'high impedance' and 'low impedance'.
Low impedance in these instances usually indicates that in this range the amp will handle an impedance of 1000 ohms or less - which will allow active pickups with preamps to be used.
High impedance in these instances may indicate an allowable impedance into the 2 or 3 mega ohm range - which will allow passive pickups to be used. Or it may indicate a maximum input impedance allowed of 20,000 ohms or less - which will handle magnetic electric guitar pickups but not passive pickups. You should carefully read the technical specifications of your acoustic amp in order to see what it will do.
P.A. Systems, Mixers: all of these units will require the use of a preamp between themselves and a passive pickup. Microphone preamps built into P.A.'s and mixers are not designed for use with passive pickups and will not work properly.
Computers: Due to the vagaries and variables inherent in the sound cards found in computers, the only thing that we can advise is that a preamp will almost certainly be necessary.