Schatten VR-2 Series For Viola
The VR Series Is Available In 2 Models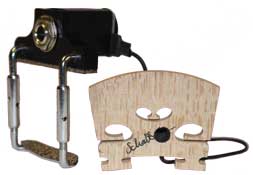 ...choosing a pickup for your viola?
The VR-2 is a full range pickup and forms the backbone for our viola pickup systems.
The response is sweet from the bottom end right up to the top. We use a high quality maple bridge of medium density that is ready for fitting and curvature. Since our single piezo sensing unit is built right into the bridge, it can not fall out or get out of position or adjustment.
There is no acoustic degradation or loss of normal acoustic tone or volume.
The pickup has excellent volume, great bottom and mids....and overall, a sweet, even response
The VR-2 Pro features a thumbwheel volume control at the rear of the jack assembly.
Details
VR-2 (passive)
The basic VR-2 features a high performance sensor built into a quality medium density bridge, ready to be fitted to your instrument.
VR-2 Pro
Combines our VR-2 viola bridge pickup with our CJAplus non-invasive low profile 1/4" output jack assembly with volume control.
Features:

Clean, clear sound reproduction This pickup has been designed to operate properly and sound terrific without the use of a preamp when plugged into any 'normal' amp (guitar amp, bass amp, etc.). As with any pickup, the sound can be further enhanced with an outboard preamp. If you require the added ability to be able to plug directly into a P.A. or mixer then you may wish to add our Mini Pre belt clipable preamp to your pickup system.
Pictures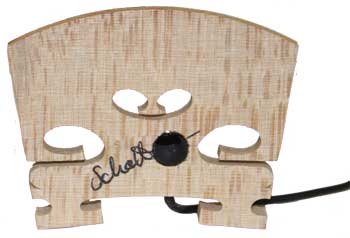 VR-2 (non-terminated)
---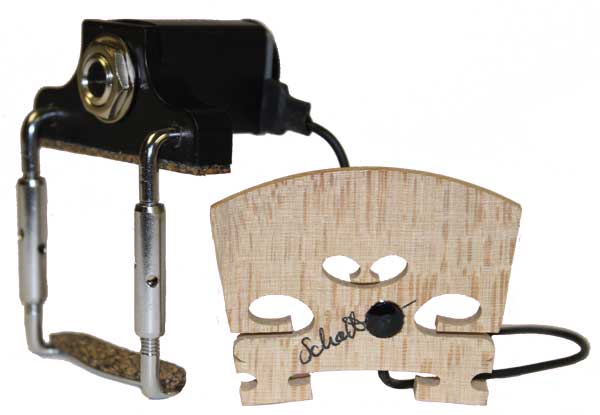 VR-2 Pro with CJAplus Jack Assembly with volume control
---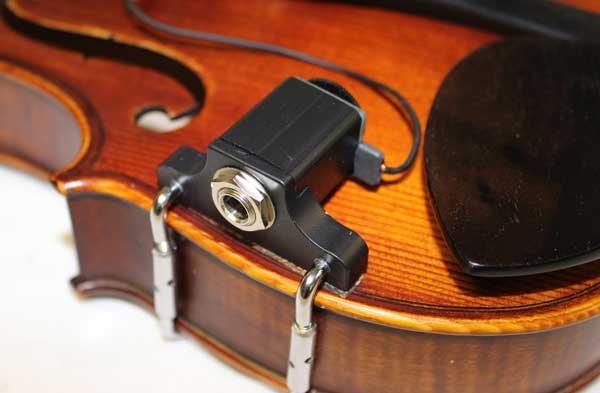 CJAplus jack assembly with thumbwheel volume control
---
Technical
VR-2 Dimensions
---
Artists
"Schatten makes great pickups! I was very impressed from the minute I put my Schatten VR Pro pickup on a new viola. The tone was warm and even.....it's been better than I expected it to be.
I recommend anyone to try Schatten pickups and I'm pretty sure that they won't be disappointed."
Jesse Zubot Vancouver BC www.jessezubot.com

Jesse Zubot, of Vancouver, B.C., is a founding member of the acoustic-roots ensemble 'Zubot & Dawson'. Their recent recording, Chicken Scratch, was produced by Lee Townsend (Bill Frisell, John Scofield) and released on True North Records in Canada. Zubot is also a member of the Great Uncles of the Revolution which includes well-known Toronto bassist Andrew Downing and trumpeter Kevin Turcotte. Both of these recording acts are Juno Award winners. Recently, Jesse has delved heavily into the world of creative & improvised music. In the past few years he has performed and recorded with the likes of Francois Houle, Eugene Chadbourne, Evan Parker, Dave Douglas, Peggy Lee, Fred Frith, Nels Cline, and many others. Jesse has also worked with many contemporary artists such as Kelly Joe Phelps, Veda Hille, Hawksley Workman, Oh Susannna, The Be Good Tanyas and OX.At the 2009 National Jazz Awards, Jesse was named 'Violinist of the Year'.

About Pickups and Amplification
Terminology
Passive Pickup - A piezo pickup.
Impedance - To simplify things as much as posssible we'll say that impedance refers to the range in which an amplifying device can 'hear' a pickup plugged into it.
Preamp - A device specifically designed for use with piezo pickups that increases the signal strength and lowers the impedance of a passive pickup.
Active Pickup - A piezo pickup with an attached preamp.
Microphone Preamp - a device that may be built into P.A.systems and mixers that is designed to work with microphones. These units will not generally work with passive pickups.
'Normal' Electric Guitar Amps: A passive pickup has an impedance of approximately 2 mega ohms (2 million ohms) which virtually all 'normal' electric guitar amps can generally handle without issue.
'Acoustic' Amps: may or may not require the use of a preamp with a pickup and that will depend upon whether or not there is a special built in preamp section to that amp that specifically allows for the choice in plugging in either a passive (non-preamped) or active (preamped) pickup. This choice is quite often in the form of pushbutton on the amp's control panel. Many acoustic amps show a selection that may indicate the choice of 'high impedance' and 'low impedance'.
Low impedance in these instances usually indicates that in this range the amp will handle an impedance of 1000 ohms or less - which will allow active pickups with preamps to be used.
High impedance in these instances may indicate an allowable impedance into the 2 or 3 mega ohm range - which will allow passive pickups to be used. Or it may indicate a maximum input impedance allowed of 20,000 ohms or less - which will handle magnetic electric guitar pickups but not passive pickups. You should carefully read the technical specifications of your acoustic amp in order to see what it will do.
P.A. Systems, Mixers: all of these units will require the use of a preamp between themselves and a passive pickup. Microphone preamps built into P.A.'s and mixers are not designed for use with passive pickups and will not work properly.
Computers: Due to the vagaries and variables inherent in the sound cards found in computers, the only thing that we can advise is that a preamp will almost certainly be necessary.