Schatten V-03 Series Pickups For Violin
Featuring our new CJA series of violin jack assemblies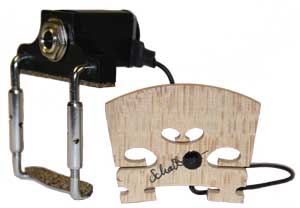 V-03 Pro with CJAplus jack assembly


(the jack assembly has an integrated thumbwheel volume control)
...choosing a pickup for your violin?
The V-03 offers unparalleled reproduction, range and clarity of sound all wrapped up in a high quality medium density bridge. There is no false 'fatness' of sound to this series of pickups; they will give you everything that your violin has.
Thousands of players, professional and amateur alike, are simply getting the best sound that they can get out of their instruments. All V-03 models are in 4/4 size and fit a normal full sized adult violin.

The response is sweet from the bottom end right up to the top. We use a high quality Despiau maple bridge of medium density that is ready for fitting and curvature. Since our single piezo sensing unit is built right into the bridge, it cannot fall out or get out of position or adjustment. There is no acoustic degradation or loss of normal acoustic tone or volume.

The pickup has excellent volume, great bottom and mids....and overall, a sweet, even response
The new CJA series of jack assemblies are smaller, lower, and lighter than series of jacks used previoiusly with the V-03's. These new jacks still take a standard 1/4" cord. The CJAplus features a thumbwheel volume control at the rear of the jack assembly.
CJA Jacks are patent pending
Details
V-03 (passive)
The basic V-03 features a high performance sensor built into a "two tree" B model Despiau maple bridge, ready to be fitted to your instrument.
V-03 Pro
Combines our V-03 violin bridge pickup with our CJAplus non-invasive low profile 1/4" output jack assembly with thumbwheel volume control.
Features:

Clean, clear sound reproduction This pickup has been designed to operate properly and sound terrific without the use of a preamp when plugged into any 'normal' amp (guitar amp, bass amp, etc.). As with any pickup, the sound can be further enhanced with an outboard preamp. If you require the added ability to be able to plug directly into a P.A. or mixer then you may wish to add our Mini Pre belt clipable preamp to your pickup system.
Pic's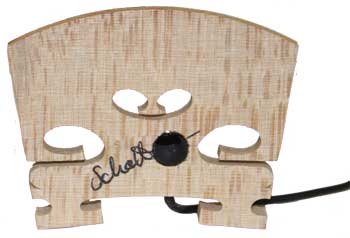 V-03 (non-terminated)
---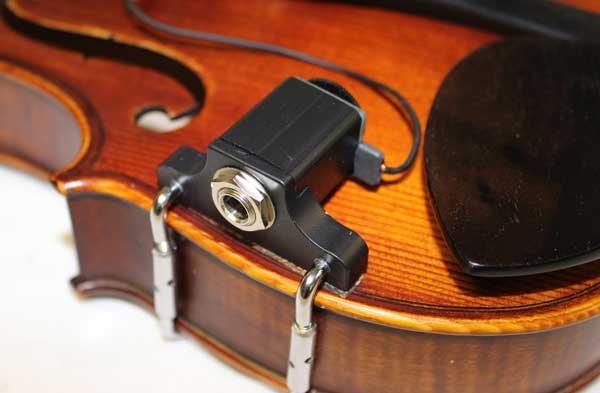 CJAplus jack assembly with thumbwheel volume control
---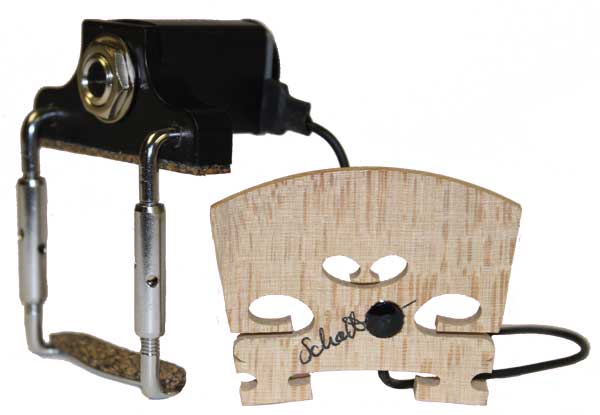 V-03 Pro with CJAplus Jack Assembly with thumbwheel volume control
---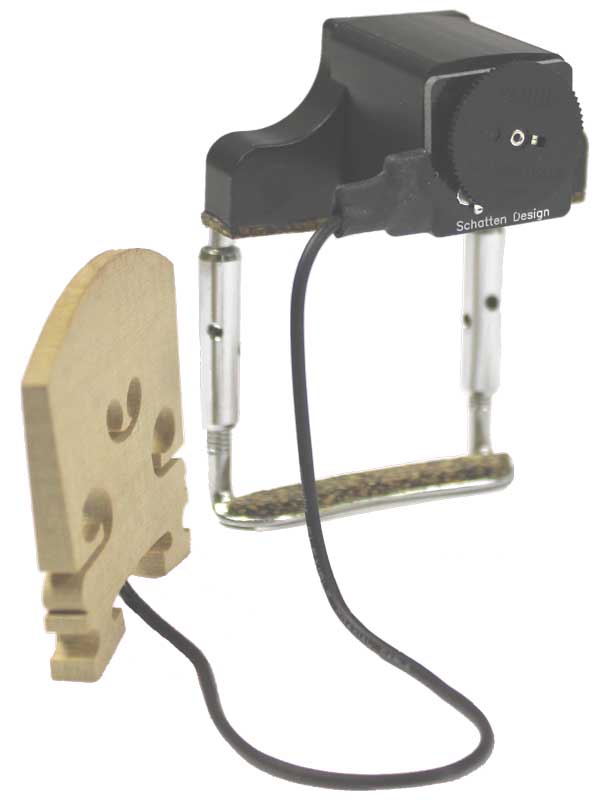 View of the back of the V-03 Pro showing the thumbwheel volume control
---
Tech
All V-03's are built with Despiau "two tree" B bridges
V-03 Dimensions
---
Artists
"The Schatten V-02 Pro violin pickup is an outstanding product. For the violinist who works hard at getting good tone, and who occasionally performs with amplification, the Schatten pickup is an absolute necessity. What a pleasure it is to use!
Duncan Cameron is well known at Celtic music venues and folk festivals for his strong vocals and remarkable instrumental abilities. He plays twelve instruments.

.....2006, Duncan Cameron's Celtic band Fig For A Kiss (with fellow multi-instrumentalists Sahra Featherstone, Joe Phillips and the recent addition of Fiona Coll) was nominated for The Canadian Folk Music Awards for "Best Instrumental Group". Duncan is also a member of Tamarack, and The Pierre Schryer Band, whose Blue Drag CD was nominated for the "Best Roots/Traditional Album of the Year" Juno Award in 2004.

DUNCAN CAMERON musician & teacher
www.duncancameron.com www.figforakiss.com
---
"For the first 5 years of live performance, I went through all the popular pickups, lots of different amps and even tried making a pickup. I was always left frustrated with not having the real sound I wanted and having a strong enough signal to handle pedals and effects. I blew out amps and probably messed up a few PA's."
"That all changed four years ago when I found out about Schatten.....I was ready to try something different and was told to just wait and see how great it was. It was exactly what I had been trying to find for so long."
"It doesn't compromise the tone of the instrument, it carries my signal well enough to be heard in all the theatres and venues I play and it's quality work that doesn't damage easily. I tour with my band as much as possible and we'll do 3 months at a time with shows almost every night, no problems with my pickup and that's a lot of shows and a lot of wear and tear. The V-02 is such a great model that I have convinced a few other working violinists that they simply must change their pickups. It's the best, hands down."
Grayson White
www.juanprophet.org www.myspace.com/juanprophetorganization
---
"Wow, the V-02 violin pickup has got to be one of the top violin pickups I have ever used. The tone of this pickup is so true, that I wouldn't trade it for any other pickup on the market. The clarity of this pickup is unbelievably phenomenal.... sustaining the beautiful acoustic sounds of my violin.

I'm using the V-02 Pro model pickup with a built-in volume control. This is such a big help when playing wireless or when you don't have a volume pedal. I would encourage anyone looking for an awesome sounding violin pickup to try this model. These pickups are simply the best!
Benjamin Probus 'Fiddlin Ben, Park City Kentucky
(pictured above: Ben at the Grand Old Opry)

---
Hello Schatten Design -
I want to tell you that I think your V-02 Series violin pickup is superb. I've played electrified fiddle for over 30 years and tried all the pickups out there and yours has the truest and warmest tone. Plus, it's volume is even across all the strings and not having to use a pre-amp is wonderful.
I first encountered your product several years ago when I bought a 5-string fiddle that had one already installed. It sounded great and I switched over my 4 string to a Schatten as well with excellent results.
I play Western Swing, Honky Tonk and swing music with occasional forays into bluegrass and Klezmer. I need volume to compete with drums, pedal steel guitar and other electric instruments. But, I don't want to sacrifice tone for volume. Your pickup allows me to maintain the sweet spot without getting drowned out. You can check out more about me on my website at . I have my own CD out called What the Hey and I've played and recorded with numerous C&W luminaries such as Ray Price, Hank Thompson, Johnny Bush and 14 years with Don Walser. I currently play with the Cornell Hurd Band, an 11 piece Western Swing band.

Best regards,
Howard Kalish Austin, Tx www.howardkalishmusic.com
---
If I had only tried this pickup years ago when I first heard about it I could have saved a lot of money from all the others that I was using. And the best part is it is made right here in Canada.

It is something to be proud of and from now on the V-02 is the only one I will use. I have installed it on my solid body fiddle and have not been able to put it down.

Great Work

Charlie St Denis

---
Hi Les,
I received my V-02 and now have it installed on my homemade violin . Today I plugged it in to my amp and it sounds just perfect , I could not believe it. Thank you very much for the information on the phone and the wiring diagram, also the extra wire. I will be ordering again soon as I plan on building more violins.

Thanks again

Rick Streeter
---
From Felipe Solis.

The V-02-Pro has enhanced the natural sound of my violin.

Finally I have reached my sound goal.

www.santafeduo.com
---
About Pickups and Amplification
Terminology
Passive Pickup - A piezo pickup.
Impedance - To simplify things as much as posssible we'll say that impedance refers to the range in which an amplifying device can 'hear' a pickup plugged into it.
Preamp - A device specifically designed for use with piezo pickups that increases the signal strength and lowers the impedance of a passive pickup.
Active Pickup - A piezo pickup with an attached preamp.
Microphone Preamp - a device that may be built into P.A.systems and mixers that is designed to work with microphones. These units will not generally work with passive pickups.
'Normal' Electric Guitar Amps: A passive pickup has an impedance of approximately 2 mega ohms (2 million ohms) which virtually all 'normal' electric guitar amps can generally handle without issue.
'Acoustic' Amps: may or may not require the use of a preamp with a pickup and that will depend upon whether or not there is a special built in preamp section to that amp that specifically allows for the choice in plugging in either a passive (non-preamped) or active (preamped) pickup. This choice is quite often in the form of pushbutton on the amp's control panel. Many acoustic amps show a selection that may indicate the choice of 'high impedance' and 'low impedance'.
Low impedance in these instances usually indicates that in this range the amp will handle an impedance of 1000 ohms or less - which will allow active pickups with preamps to be used.
High impedance in these instances may indicate an allowable impedance into the 2 or 3 mega ohm range - which will allow passive pickups to be used. Or it may indicate a maximum input impedance allowed of 20,000 ohms or less - which will handle magnetic electric guitar pickups but not passive pickups. You should carefully read the technical specifications of your acoustic amp in order to see what it will do.
P.A. Systems, Mixers: all of these units will require the use of a preamp between themselves and a passive pickup. Microphone preamps built into P.A.'s and mixers are not designed for use with passive pickups and will not work properly.
Computers: Due to the vagaries and variables inherent in the sound cards found in computers, the only thing that we can advise is that a preamp will almost certainly be necessary.